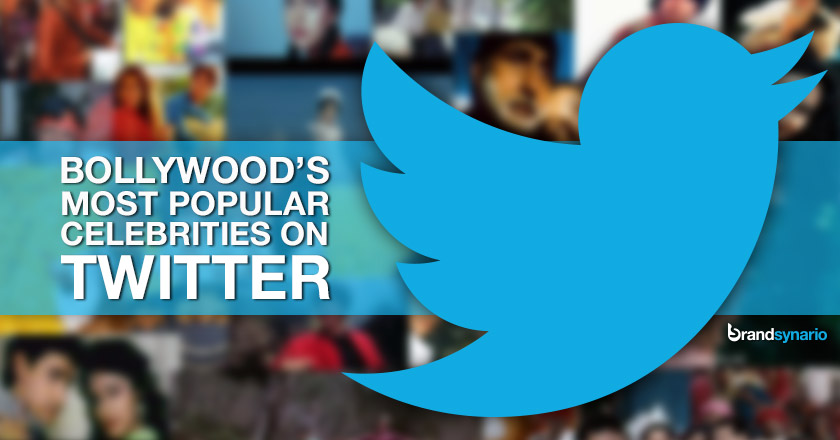 Salman Khan is excited about FIFA 2014, Shilpa Shetty is celebrating the victory of Rajhistan Royals, Bipasha Basu is down with bad flu, Priyanka Chopra was busy in Vegas and Sonam Kapoor was singing along to Rihanna's tune "Monster".

All these tidbits are not just mere gossips about Bollywood celebs but genuine updates from their Twitter accounts. The microblogging site, Twitter has brought stars closer to their fans by connecting directly to a large base of their adoring fans.

Brandsynario did some stalking of its own and from hordes of actors and actresses, we complied a list of the ten most popular Twitter superstars from Bollywood.

Topping the charts is the one and only Amitabh Bachchan who is the "Don" of Twitter with 8.62 million followers. Big B's usual tweets are about his son Abhishek Bachchan and his daughter in law Ashwariya Rai. Only 4% of his tweets are related to the brands he is associated with.
Shahrukh Khan (@iamsrk)
Next in line is King Shahrukh Khan who has a whopping 7.52 million followers. Contrary to other superstars, he rarely tweets his pictures but rather updates his fans with the movies he is working on and the every day Bollywood affairs. Around 2% of his tweets are on promotion of brands.
The Dabang Khan grabs the bronze medal in our list with his total Twitter followers equal to 6.78 million users. Though not an avid user of Twitter, he makes occasional appearances on the social media website with highly entertaining and amusing tweets.
With a total number of 5.97 million followers, Priyanka leads the Twitter fan following amongst all the actresses of tinsel town. Recently, her count of followers received a sudden boost due to the online release of her new tunes. She tweets about all her daily activities from what she is eating to what she is wearing.
Not much of a Twitter fan, Amir Khan is hardly active on the platform. Nevertheless, his number of followers has reached around 6.69 million. Often, he tweets about his show Satvamev Jayate promotes his latest projects.
The youngest of all in the list, the Dusky Diva Deepika has a massive fan following of 5.99 million users. Her super hit films like "Ram Leela", "Chennai Express" and "Yeh Jawani Hai Dewani" acted as a catalyst to her rise in the number of her Twitter fans.  She, like Amir Khan, makes special appearances on Twitter.
The dancing sensation of B-town and the handsome hunk Hrithik grooves his way to the sixth spot on our list. The occasional tweeter has around 5.48 million fans and mostly tweets either his pictures or about his latest movies.
Khatrun Ka Khiladi Akshay Kumar has quite an impressive following of 4.74 million. Like most of the Bollywood celebs, he promotes his latest movies and projects on the social media site. Other than that, he is the only actor in the list who can be found tweeting about the social issues in India.
The heartthrob of Bollywood Shahid Kapoor has only a fan base of around 4.08 million. He often updates his Twitter with fitness tips, his daily doings and of course, his upcoming movies.
With just 4 million fans following him, Junior Bachchan gets the last spot on the list. Being a fan of sports, he tweets most of the time about football and cricket matches.
RAJNIKANTH ENTER'S TWITTER
Two days ago, famous Tamil superstar Rajnikanth made his much waited debut on Twitter receiving a warm welcome from Twitterati.
Using the Twitter handle "@superstarrajni", he gained around 100,000 thousand followers in just three hours and his total count of followers has reached 284,000 till date.
Hia massive appeal in India even beats that of Senior Bachchan as once, Big B had to apologize to Rajnikanth for tweeting a joke on him.
"Someone sent me this on mobile-"When Graham Bell invented the telephone, he found two missed calls from Rajnikanth!", Brilliant", tweeted Amitabh.
It seems that Rajnikanth's fans will beat those of Amitabh in no time, making him the most famous Bollywood superstar on Twitter.