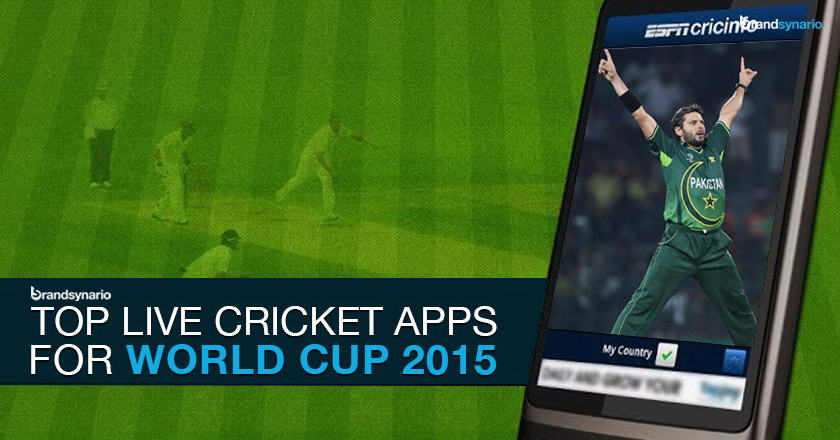 With the clock ticking down and the start of the mega event fast approaching, cricket fans across the globe are gearing up to fully support their nations and enjoy the enthralling encounters that await them.
Cricketing fans, young and old, are always on the lookout for the latest bits of news surrounding the cricketing festival. Whether it is about leaked World Cup team kits, or the ins and outs of players, or the changing weather in the host nations, nothing it seems quenches their thirst for all the breaking news and talking points about their teams' prospects of clenching the cricketing Holy Grail.
Here Brandsynario looks at the top apps for cricket lovers to stay updated with all the happenings in the cricketing World Cup leading up to the World Cup itself.
1. ESPNcricinfo Cricket
ESPNcricinfo's official Cricket app is all that one needs to keep themselves well-equipped with up-to-the-minute scores, breaking news and stories, statistics and records, player and team rankings, player performances, all the cricketing insight from renowned players and officials of the sport, and much more.
This app is a must-have for all cricket fans! 
To download Android app, Click here or to download iPhone/iPad app, Click here.
2. Cricket World Cup 2015 by Venkool Mobile Apps
From all the group standings, match previews, information and details about venues and grounds, and every bit of major World Cup history and statistics, Cricket World Cup 2015 is an app that brilliantly covers the 2015 Cricket World Cup in all its grandeur.
To download, click here
3. Yahoo! Cricket 
Yahoo! Cricket is the best place for following and enjoying Cricket on your Android device. This user-friendly app comes with a veer of features – live scores of matches, an interactive scorecard, real-time match updates, and much more!
To download, click here:
4.  iCricket  
An app for iPhone and Android users alike, iCricket gives its users ball-by-ball commentary, live scores, live weather information, player rankings, tournament news, full team information and a lot more.
To download app, click here
Did we miss out on any app? What other apps do you use?
Let us know in the comments below!