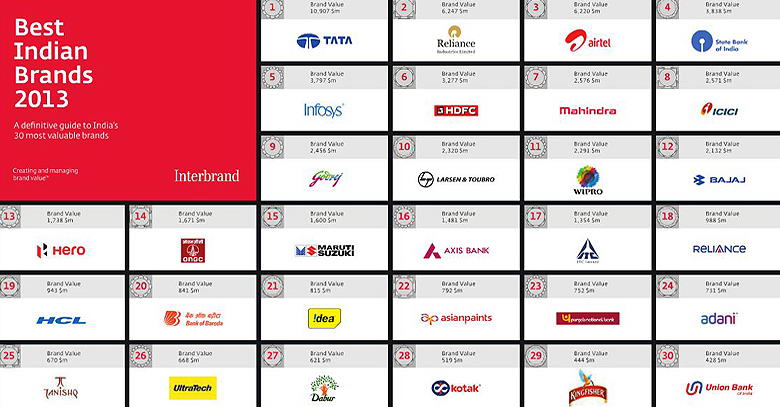 India has emerged as one of the major upcoming economic hub for International businesses, primarily because of the exceptional performance of its domestic brands in the last decade. Indian brands have safeguarded the stability of the country's economy for the longest while solely.
Interbrand ranks the country's most valuable brands, not only to recognize the Indian potential on a global scale but also ask the nagging yet persistent question, which arises every time Indian brands are acknowledged, 'Does the Indian Brands have the potential to perform the same on a more global scale?'
Do Indian brands lead their businesses, or do they lag behind the organizations that own them? Are brands in India treated as a cost, or invested in as an appreciated and appreciating asset?
They say that the ultimate test for any brand is the value it creates. Interbrand's brand valuation does just that.
Interbrand ranks TATA Group on the top of the list for Best Indian Brands with a total Brand Value of USD 10,907 million or 10.0 billion.
TATA is a 145 year-old corporation which till date remains to be an entirely family-owned business. The company encompasses seven major business sectors which include communications and information technology, engineering, materials, services, energy, consumer products and chemicals.
Following TATA on the list is Reliance Industries. With its headquarters in Mumbai, the corporation much like TATA group operates in more than one major sector.
Reliance's operational business segments include: exploration and production, refining and marketing, petrochemicals, retail and telecommunications. Interbrand values Reliance with a Brand Value of USD 6,247 million or 6.2 billion dollars.
Following the two colossal business empires, is Airtel with a Brand Valuation of USD 6,220 million. Airtel, also known as Bharti Airtel Limited, is the Indian multinational telecommunication corporate.
The youngest of all the three brands, Airtel is a mere 18 year old business. However, in this little time the company has rose up to being the world's third largest mobile telecom company in number of subscribers.
The list goes on to rank the other 27 of the most impressive businesses of India in accordance to their brand valuation, with names like Mahindra, ICICI, Bajaj, Godrej, Idea, Hero Honda, Maruti and Tanishq along with others.
Interbrand is a world renowned and perhaps the most credible source of global branding consultancy. Found in 1974, the company has more than 40 offices in 25 countries of the world, including India.