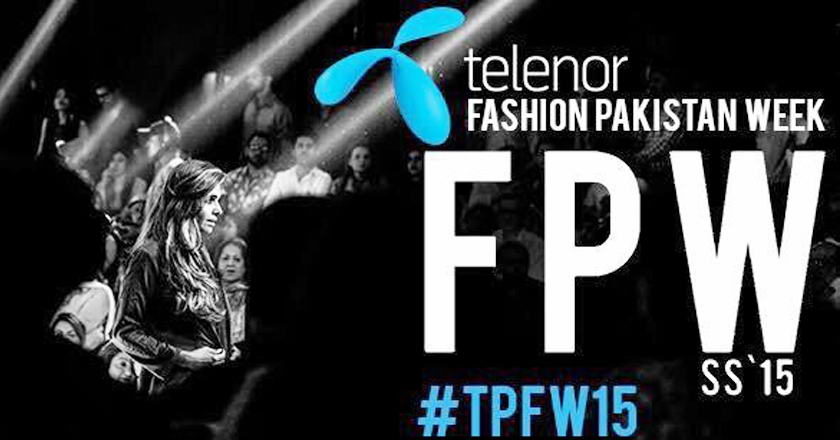 Pakistan's premiere fashion event, Fashion Pakistan Week, is back for the season with new designers, gorgeous couture collections and extravagant bridal ensembles!
To be held in collaboration with Telenor Pakistan and Hum TV Network, Telenor Fashion Pakistan Week Spring Summer 2015 (#TFPW15) will be showcasing number of designers exhibiting their very best for the spring summer season, from 31st March 30, 2015 to 1st April 2015.
The event will be made more glamorous with Maybelline New York acting as official makeup partners and celebrating 100 years of beauty, glamour and glitz.
Other official partners include Toyota, unveiling Chrome Toyota Corolla at the event and Bank Alfalah, showcasing the work of student designers from Indus Valley School of Arts & Architecture and Pakistan Institute of Fashion Design.
While talking to Sunday Plus, renowned designer/actor, Deepak Perwani stated how Pakistani fashion has proven to be inspirational for international designers in the past and how he is hopeful that this year's bigger and better fashion week will help bring our local fashion further in the limelight.
Deepak Perwani's collection, La Dolce Vita, for spring/summer 2015 has a range of colors including "reds and maroons, peaches and creams and yellows".
On the other hand, Sanam Chaudhri, Fashion Pakistan chairman, is bringing to the world a collection for modern women, who are true to her cultural roots, incorporating them beautifully in her life, without being smothered by them. Her collection Zingara will be a true testament to what she believes makes Pakistan fashion industry a prominent name: "versatility and cultural uniqueness".
The CEO of Fashion Pakistan council, Wardha Saleem, is excited about the upcoming fashion week and promises to bring more fashion events for Pakistan to help new designers launch their work at the biggest fashion platform of Pakistan and to allow established designers to set fashion trends worldwide.
As a designer, Wardha Saleem will be showcasing her collection, The Lotus Song, featuring ice blue and sage green color palette and Ikat and Madhubani art inspired designs.
Take a look at what other designers have in store for you at #TFPW15:
The official line up is here and it packs a punch! Can't wait to see what everyone has in store! #TFPW15 #LetsDoThis pic.twitter.com/6UHDIz2DX8

— Fashion Pakistan (@FashionPakistan) March 21, 2015
#TFPW15 brings #NidaAzwer's French Trellis Collection and her signature soft color palettes! #sneakpeak #wecantwait pic.twitter.com/hVkJeOfbvv

— Fashion Pakistan (@FashionPakistan) March 30, 2015
Huma Adnan's #FnkAsia woman celebrates #Freedom at #TFPW15! #sneakpeak #WeCantWait pic.twitter.com/PQBfYxZJ0Q

— Fashion Pakistan (@FashionPakistan) March 30, 2015
@DPerwani introduces "la dolce vita" a secret garden of vintage and new hues this #tfpw15 #sneakpeak #wecantwait pic.twitter.com/NyvoRqU0j1

— Fashion Pakistan (@FashionPakistan) March 29, 2015
Body Focus Museum by Iman brings us Sartorial Philology and the New Nomads! #sneakpeak #WeCantWait #TFPW15 pic.twitter.com/eNDxOrtSiS

— Fashion Pakistan (@FashionPakistan) March 30, 2015
Fahad Hussayn's #DominionatrixDecoded packs a punch! #sneakpeak #WeCantWait #TFPW15 pic.twitter.com/1yZ85Xf4md

— Fashion Pakistan (@FashionPakistan) March 30, 2015
We're loving the soft ethereal feel of #ZaheerAbbas' #TFPW15 collection teasers #Sneakpeak #WeCantWait pic.twitter.com/jaRKm5JKrv

— Fashion Pakistan (@FashionPakistan) March 30, 2015
#AmirAdnan will showcase his magnificent collection Shah Zadeh in #TFPW15 #CantWait #Sneakpeak pic.twitter.com/Jj4VZq0LSf

— Fashion Pakistan (@FashionPakistan) March 30, 2015
Looking forward to see what the newcomers from #BankAlFalah's rising talent selection have up their sleeves! #TFPW15 pic.twitter.com/Nzx8DEd355

— Fashion Pakistan (@FashionPakistan) March 30, 2015
This #tfpw15 Sonya Batla brings us soft palettes and colours to oooh over #sneakpeak #wecantwait pic.twitter.com/AK86MxcuVV

— Fashion Pakistan (@FashionPakistan) March 29, 2015
Madiha Raza brings "spring myth" to #tfpw15 #sneakpeak #wecantwait pic.twitter.com/wSZ5btOsdx

— Fashion Pakistan (@FashionPakistan) March 29, 2015
#TFPW15 @sanam_c #sneakpeak #zingara with a gypsy heart #wecantwait pic.twitter.com/PwS5GMWlOs

— Fashion Pakistan (@FashionPakistan) March 29, 2015
#tfpw15 #sneakpeak @AamnaAqeel brings to us "romancing the lines" #wecantwait pic.twitter.com/ohQ3IltgNb

— Fashion Pakistan (@FashionPakistan) March 29, 2015
This #tfpw15 @SaniaMaskatiya pays tribute to the unsung heroes of design #wecantwait pic.twitter.com/zUVMH7pCrm

— Fashion Pakistan (@FashionPakistan) March 29, 2015
With a sneak peek this gorgeous, we can't wait to see @wardhasaleem's entire collection of #TheLotusSong at #TFPW15 ?? pic.twitter.com/q7ASUafYr4

— Fashion Pakistan (@FashionPakistan) March 29, 2015
To view #TFPW15 live, visit: http://fashionpakistan.com.pk/