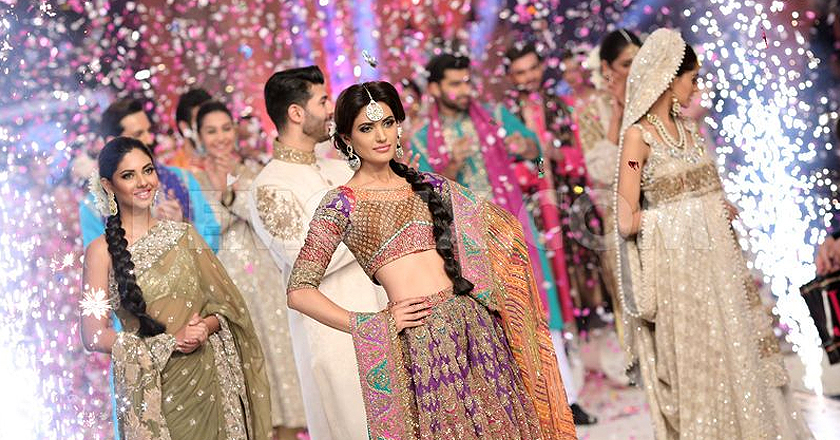 With Pakistan Fashion Week leaving us in a haze of glamorous splendor and stunning new fashion trends, Telenor Bridal Week 2014 followed up with more extravagant choices for the brides-to-be to choose from. The spectacular event sponsored by Telenor, Pakistan was held from 11th to 13th December 2014, showcasing 21 extremely talented designers' latest pieces at the Faletti's Hotel, Lahore.
Directed by the choreography genius, Hassan Shehryar Yasin, the event featured 48 models in the finest designer wear at their alluring best. With Fahd Husayn's never-seen-before folklore ramp spectacle, Mubashir Luqman making a surprising appearance as the show-stopper for Asifa & Nabeel and designers bringing the gold and black palette for brides and grooms, the Telenor Bridal Week 2014 was nothing short of a success.
While some of the designers stuck to the heavy set conventional maroon/red attires, others jazzed them up with chic cuts, modern styles and pastel hues to give them a more contemporary touch.
Here are top ten best collections from Telenor Bridal Week 2014:
1. Maria B. – Rose Garden
Maria B mesmerized everyone with her collection La Roseraie (Rose Garden), an assortment of dresses inspired from fashion at its best in France in the 18th century. The palette for the collection was mostly pastel but also had a few gorgeous monochrome pieces with cutwork pieces and short body jackets set in sequins and embellishments and box pleated skirts with digital prints  giving the collection a very feminine, dreamy touch.
The collection marked the comeback of cigarette pants, crop tops and luxury fabrics like organza, silk and net. 
2. Tena Durrani – Perenia Progressive
Tena Durrani's collection was themed around a bride for every season. It showcased the perfect combination of modernism and traditionalism for the bride of today who while being fashion conscious still follows deep rooted traditions. The dresses had a mixed palette of dark colors mixed with pastel ones to make the attire bright enough to stand out and yet subtle enough to be a bridal piece.
3. Faraz Manan – Couture Collection
Famous for portraying his collections around different cultures, people and architectures from around the world, Faraz Manan paid a tribute to Pakistan's fashion hub, Lahore, this season. His collection encapsulated Lahore in its true essence- vibrant, rich and festive.
What made Faraz Manan stand out amongst many others was the fact that he showed that black and gold could be worn at your wedding day and how so! His show-stopping dress, an embellished cropped blouse with net sleeves and a black and gold luxe skirt stole the show.
4. Hina Butt – Teena
Hina Butt showcased the Persian culture in her latest collection with the luxe velvet as the main fabric complementing the heavy yet intricate designs inspired by the Persian carpets. As with the Persian culture, Hina Butt's line had mainly a red, gold and black palette.
 However, what made the line stand out was the way the designer had amalgamated the traditional culture with modern, chic cuts to make the dress suitable for the contemporary bride.
5. Kuki Concepts – Parisa
Zahid Khan weaved his usual magic in his latest collection Parisa, keeping the palette pastel and peach but making the styles modern with gathered skirts. The cuts looked western without losing their eastern touch, skirts kept simple and elegant and tops, heavily embellished.
6. Uzma Babar – Shenaai
For those who prefer sticking to traditional styles, Shenaai collection by Uzma Babar had a variety of shararas, farshi ghararas and lehangas to choose from in a variety of rich fabrics such as silk, chiffon and net with dabka, kora and crystal embellishments. The color palette encompassed the traditional reds without being overdone by mixing them with a variety of colors to make them look just perfect.
7. Asifa & Nabeel – Couture Collection
Asifa & Nabeel kept their signature style intact in their latest collection, KLAH, while giving it a new feel. The collection was inspired by the Islamic art from around the world, particularly from the creativity of Spain's Alhambra Palace, using needle artistry at its finest best.
The dresses were traditional without being boring and classical without being dull. The collection combined tones red and orange with the classic black and gold with heavy embellishments and thread work over rich fabrics for just the right touch of glamour. 
8. Fozia Hammad – Laila-e-Lahore
Another tribute to Lahore, by Fozia Hammad, had an amazing collection of dresses too. While her traditionally styled dresses, with gold and red palettes, were eye-catching, what stood out were her white and cream pieces, with asymmetrical designs and a "less is more" theme.
For bridesmaids and even brides looking for a very light and modern touch on their big day, these elegant dresses are a perfect wrap over styled bridal wears.
9. Munib Nawaz – Paradise Express
For men, Munib Nawaz showed that the velvet sherwanis are the way to go this winter season. The collection described as "a tribute to a journey, a destination and the medium through which our belief in love is attained" was the classic blend of modernism and traditional.
From heaving embellished velvet capes paired with plain sherwanis to plain velvet capes coupled with heavy jamawar fabrics, Munib Nawaz gave a huge variety of pieces to choose for men with different tastes.
10. Umar Sayeed – Couture Collection
Umar Sayeed was the highlight of the Day 3 of the glamorous event and he ended the show at an enthralling note. His collection had a mix of designs and colors all done to perfection.
Each of the styles, be it the saris or short shirts with cigarette pants or cropped tops with flowing gowns, his color palette stood out from the entire show and designs spoke for themselves.
Share your picks with us in the comments section below.