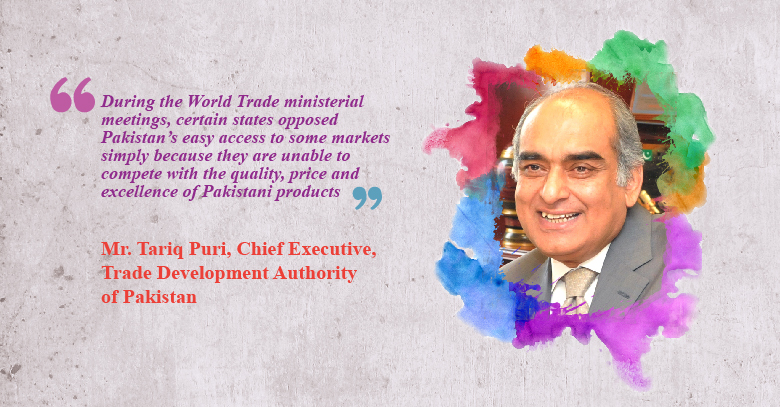 Mr. Tariq Puri is the Chief Executive of Trade Development Authority of Pakistan (TDAP). He has to his recognition the honor of serving the Federal Government for the past 37 years.
His relentless efforts has led to the boost in the Pakistani exports industry.
"During the World Trade ministerial meetings, certain states opposed Pakistan's easy access to certain markets simply because they are unable to compete with the quality, price and excellence of Pakistani products", Mr. Tariq Puri, Chief Executive, Trade Development Authority of Pakistan.
Synergyzer: Tell us about the vision of the Trade Development Authority of Pakistan (TDAP) and the role that it is playing.
Mr. Tariq Puri: The vision of TDAP is to foster Pakistan's exports by diversifying export destinations and our products being exported. On a holistic level, we want to portray Pakistan as a brand to the world which provides good quality raw materials and finished products for the international community. TDAP exists to aid local producers in order to nurture development and spur growth within the local manufacturing circuit.
When talking of Pakistan as a brand, we have readjusted our focus on promoting Pakistan in the regional markets. Our emphasis is on major markets in the South Asian and Asian region such as India, China, Japan and Kazakhstan. This has given us the opportunity to explore local strengths, which are in need in these regional markets.
Recently, TDAP organised the Lifestyle Pakistan exhibition in India which was well received by our neighbours across the border. The exhibition created vibes across the media and garnered heavy footfall of Indian and foreign consumers who wanted to explore what Pakistan has to offer.
Such events are a reassurance to the international community that despite restrictions upon manufacturing capabilities and other economic problems, our products' quality is second to none. These measures have yielded positive outcomes for Pakistani exports both for the private and the public sector. However, it must be understood that TDAP is a facilitator, supporter and bridge between the Ministry of Commerce and the private sector in Pakistan. In this capacity, we put in maximum efforts to promote brand Pakistan for the benefit of local exporters.
Synergyzer: How successful have you been in establishing brand Pakistan and what factors are a hindrance in achieving this? 
Mr. Tariq Puri: The internationally community is well-aware of the dilemmas that Pakistan is facing, encompassing political, economic and social aspects. There is an acute shortage of energy which in turn hinders production on a mass level. Hence, due to terrorism and the issues attached to it, the trust of foreign investors and buyers in Pakistani products and exports has deteriorated significantly. Foreign buyers have reservations that Pakistani exporters are unable to meet the global demand and this prompts them to shift to other countries to conduct their businesses in, robbing Pakistan off such opportunities.
Amid all this chaos, what must be noted is the sheer resilience of the Pakistani manufacturers, who continue to produce at the same capacity without compromising on the quality of the products, and this has been instrumental in promoting brand Pakistan.
It must be noted that the exporters' community of the country has performed remarkably well, increasing the figure of exports from PKR 20 billion to PKR 25 billion during the last financial year.
Synergyzer: What was Lifestyle Pakistan all about? How is it going to benefit Pakistan and India in terms of exports?
Mr. Tariq Puri: Lifestyle Pakistan was all about promoting Pakistan and its local manufacturing industry in India, which has one of the world's largest populations. This makes India a very important market and with the same perception in mind, our Secretary of Commerce gave the proposal to his Indian counterpart, which they accepted after much deliberation and continuous rounds of talks.
The multi-sectoral industry exhibition had a tremendous turnout in terms of visitors, as well as commercial success. We included major fashion houses from Pakistan and other luxury brands along with marble, food, furniture, footwear, tiles industries of Pakistan. This has ushered a new era of trade development and mutual collaboration between the two neighbouring countries that are working intensively to normalize trade amongst each other, especially through trade events and such. In February 2012, India held a similar exhibition titled, "Made in India", which was a roaring success in Pakistan through the facilitation of various local and bilateral trade bodies.
Synergyzer: How will such exhibitions facilitate exports? 
Mr. Tariq Puri: Lifestyle Pakistan is larger than a brand. It speaks volumes about what Pakistan has to offer to international consumers and the response we received from India speaks for itself. There are many products Pakistan is famous for throughout the world like bed linen, sports goods, carpets etc. but we don't have many individual brands within these categories. Once, these industries promote their products as individual brands on such massive platforms, buyers become interested in signing them up as suppliers for their businesses.
Synergyzer: How does the Chinese market present a good opportunity for Pakistan?
Mr. Tariq Puri: The Chinese economy is growing substantially and its population, which is the largest in the world with ever-increasing purchasing power parity, provides Pakistan with a huge opportunity of promoting our products there. China has been a friend of Pakistan since many years and the governments of both countries have come forward consistently for the development of trade. Thus, tapping into this prospect, TDAP aims to promote Pakistan through various trade and commerce exhibitions. We plan to participate in business forums and send delegations for the advancement of local products in the Chinese market. As yet, we have been able to increase our exports by 25% to China, especially in the home textiles and leather garments & accessories sector due to our unparalleled quality and specialization.
Synergyzer: What roles do international laws and regulations play in determining Pakistan's share in exports to certain markets of the world?
Mr. Tariq Puri: Every country has different trade laws being enacted within their jurisdiction which foreign trading bodies have to acknowledge and abide by. For example, from 2002 to 2004, trade with the European Union was duty free. This provided Pakistan with a great advantage where we could conduct trade with European buyers without paying any duty on our goods. Though, certain regulations were again later levied in connection with trade duty which hindered our access to these markets. During the World Trade ministerial meetings, certain states, like Spain, Portugal & Greece opposed Pakistan's easy access to certain markets simply because they are unable to compete with the quality, price and excellence of Pakistani products.
Synergyzer: Why in your opinion, have Pakistani textile brands not been able to establish their presence in the global market?
Mr. Tariq Puri: Here, I want to mention that Pakistan is manufacturing for leading international textile brands, and our home textiles are well established in the international market. Yet, it isn't an easy proposition to establish a brand internationally and make it successful in a short period of time due to the expenses and resources involved. On the global front, textile brands face tough competition from well established names like Zara, Marks & Spencer, among others. Hence, when local companies attempt to enter global markets by trying to establish their own brands or even by buying out international brands, they achieve little success. Earlier, when TDAP was named Export Promotion Bureau, a scheme was launched to provide financial assistance to such ventures, but it received a lukewarm response so it was discontinued.
Synergyzer: Does TDAP induce new ideas in Pakistani textile and fashion brands through collaborative programs with universities and international fashion houses abroad?
Mr. Tariq Puri: TDAP has laid particular emphasis on the establishment of strategic alliances of local fashion schools with those located in fashion forward cities of Milan, Paris, New York and London. Moreover, we try to enrich the manufacturing side by bringing in people from abroad who have the technical expertise required for the textile sector. Such endeavours improve production quality of textiles even further and we are able to provide better quality products for a demand-oriented market. It is important that production should always be demand-oriented rather than supply-oriented as it is all the more profitable to cater to an existing customer base than selling to a target market which may or may not be interested.