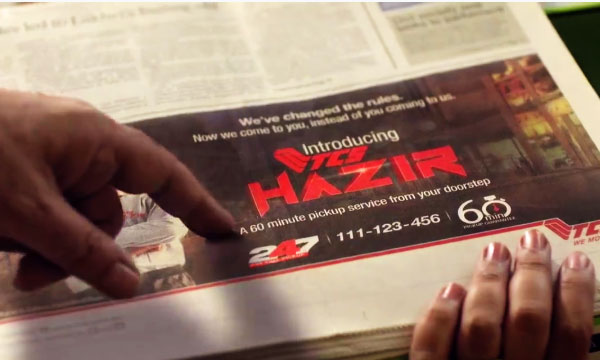 Pakistan's largest express and logistics group, TCS has launched a 24-hour service, TCS Hazir Time Choice, which enables customers to get their shipments delivered on the day and time of their choice. Customers can place their requests on the phone or through the TCS website after which a rider picks up the parcel within 60 minutes and it is delivered at the requested time.
Read More: TCS Hazir's Newest 'Roza Kushai' TVC
TCS customers can also choose from an available 60-minute slot for delivery within five days of booking and can also get a refund if the shipment is not delivered on time.
Read More: TCS Introduced a 24/7 'TCS Hazir' Service Campaign in Pakistan
The TCS Hazir Time Choice facility is currently available in Karachi, Lahore, Islamabad, Rawalpindi, Hyderabad, Peshawar, Gujranwala, Sialkot, Faisalabad and Multan.
Customers can call TCS on 021-111-123-456 and book their documents and parcels of up to 25kg.