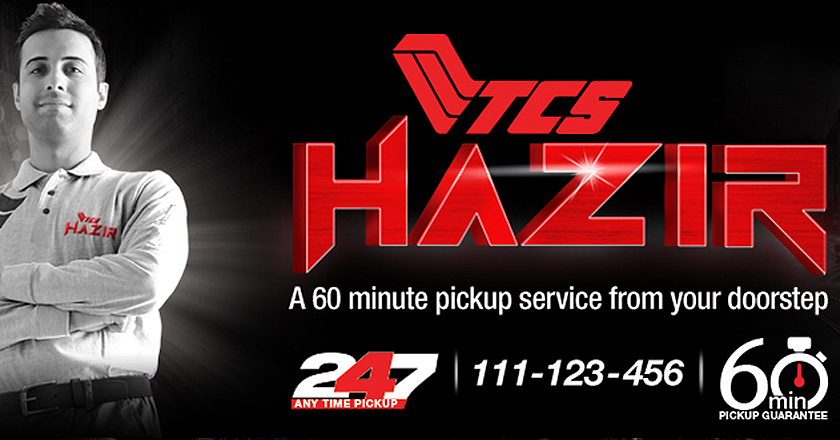 Living in a metropolitan city riddled with thugs and strikes can be taxing especially when all you ever want is to send a birthday cake to your friend but can't – because either it's too late or there is a political incursion outside. 
But as a nation that can find a way around anything – we have a solution for such drastic situations too! 
TCS has announced the launch of 'TCS Hazir', an advanced courier services intended to facilitate the customers at their doorsteps within 60 minutes – at any time of the day – no, we aren't making it up.
TCS Hazir promises that with TCS Hazir's 24/7 service, the customers can place orders for their books, documents, or any parcel weighing up to 25 kg, to be delivered from anywhere at any time and on any day – regardless of the time and day, even at 3AM on the first day of Eid, TCS will always be Hazir!
TCS Hazir is initially available in Karachi, Lahore, Islamabad and Rawalpindi. It guarantees safe pick up and packing of parcels within an hour from the customer's doorstep at any given time.
This service is set to revolutionize Pakistan's logistics industry as it promises increased expediency to customers, leading to an overall greater efficiency.
HOW TO ORDER TCS HAZIR?
So how can you call TCS Hazir for help? There are more than one ways to place your order.
1) Call the TCS helpline (111-123-456) at any time of the day and place your order;
2) Visit the TCS website and locate the TCS Hazir link. Or simply click on the following link to open the TCS Hazir interface.
3) Visit TCS Hazir on your TCS App, from your desktop or Smartphone.
The TCS Hazir service comes with a charge of Rs. 100 for a typical parcel/letter weighing less than 1KG, while the service charges can be as much as Rs. 1,370 for a 25KG parcel.