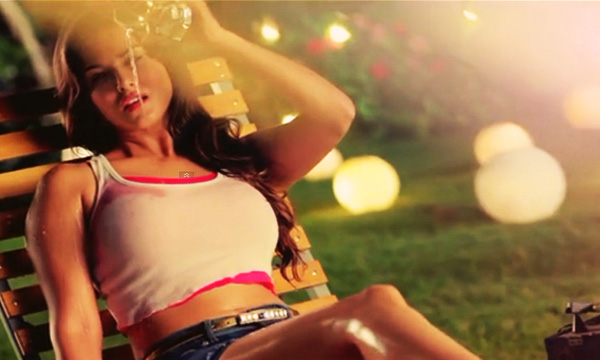 MTV Splitsvilla, one of the most watched shows in India, has come up with a new way to entice the audience to increase their ratings. Sunny Leone. Two words that give about 24,000,000 results in 0.24 seconds when Googled. Currently on the 8th edition of MTV's Splitsvilla, the Bollywood actress is ready to set your screens on fire with her shocking ad.
Watch the ad below:
Entitled 'Simmer in Summer with Sunny Leone', the ad starts out with a woman drinking iced water, whereas the voiceover goes on about the heat. But wait… now she's spilling water all over herself and the woman is revealed to be Sunny Leone.
The entire ad focuses on nothing more than the adult movie star spraying herself with water, under the pretext of 'cooling off', while the voice-over continues off in a lecherous manner.
In my opinion, the show is overrated and the owners seem to be confused about the product they are featuring. The ad leaves little to the imagination as it portrays Ms. Leone as a stereotypical 'sexy' woman, who is unaware that she's half naked.
But what's the real message here? The ad doesn't talk about Splitsvilla till the very last few seconds and only aims to push the fact that Ms. Leone will be available for all men to feast their eyes on her revealing figure all throughout MTV's Splitsvilla.
MTV Splitsvilla, is an Indian television reality show that airs on MTV India. The series is based on the American dating reality show Flavor of Love.
The reality show revolves around young boys and girls try to secure a place in Splitsvilla which is a "Villa". It is a "hunt for love" show where boys and girls compete in tasks to stay in the competition and mingle with the contestants to find love.
In the end, one boy and one girl are crowned the winners of Splitsvilla (they are a couple). There are a lot of fights, jealousy, hatred, friendship, backstabbing, and love when all these wild contestants get together. There is also a King and Queen that have dumping powers.
My advice? Stop making the show altogether.