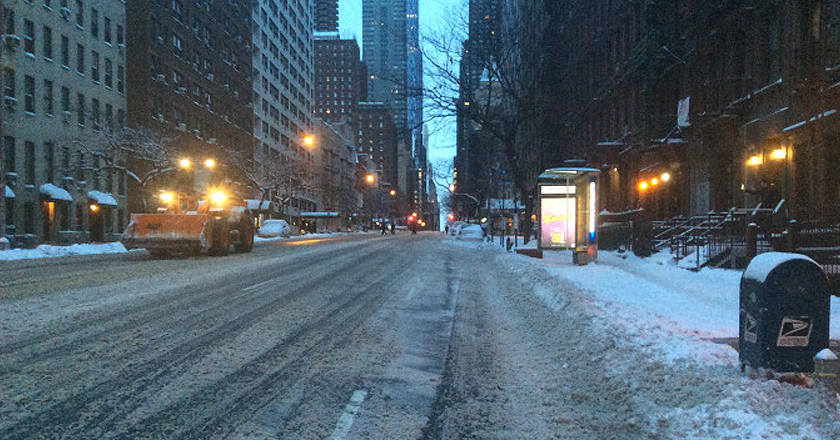 Remember when the much-talked about Nilofer cyclone never reached the Indian or Pakistani land and dissipated somewhere in the middle?
A similar situation has just taken place in New York, America where the highly dreaded snowstorm, unofficially named Juno resulted in complete shutdown of cities from Central and Eastern United States.
The predictions for the Storm had been very dire, with more than 60 centimeters of snow expected in some places. There were vigorous defense measures adopted as a precautionary measure such as a travel ban, in Massachusetts and New York, which was only just lifted on Tuesday.
The snowstorm had potentially 20 million people in the blizzard zone. The snowstorm left much less snow in the city than originally expected, totalling 9.8 inches in Central Park.
With a city transportation shut down, ordered by Mayor de Blasio, for New York, for the first time ever. The Celebrities, from Lena Dunham to Justin Bieber, and common people have churned out some pretty hilarious tweets.
Have a look:
My mom told me to prepare for the blizzard so I bought a massive bin of cookie dough.

— Taylor Rosenberger (@TaylorJRose) January 26, 2015
The cold never bothered me anyway. #letitgo #Snowmageddon2015

— Laurie Penny (@PennyRed) January 27, 2015
NYPD has released this photo to the public as a "person of interest". #Snowmageddon2015 @absrdNEWS pic.twitter.com/xM5udkGY8M

— Dentist Bob (@CanyonDentalCen) January 27, 2015
BEST. SNOW. SIGN. EVER! #Snowmageddon2015 #snowpocalypse pic.twitter.com/7aAVZuJXEd

— Trita Parsi (@tparsi) January 26, 2015
Everyone on the east coast be safe with the storm coming

— Justin Bieber (@justinbieber) January 26, 2015
Lord, please let it snow so much that everything is canceled for two weeks but my Internet remains on and there's plenty of grilled cheese.

— Michael Ian Black (@michaelianblack) January 26, 2015
Due to the #blizzardof2015, we're unable to travel to NYC. We're working on alternatives and will let you know as soon as they're confirmed.

— backstreetboys (@backstreetboys) January 26, 2015
See you in The Commonwealth. #blizzardof2015 pic.twitter.com/aQThw09mGY

— Jim Cantore (@JimCantore) January 25, 2015
Super dissapointed about how lame #Snowmageddon2015 has turned out to be. I was so ready to sport this look all day pic.twitter.com/khHJt2VBDz

— refinery29 (@Refinery29) January 27, 2015
Meanwhile outside my apartment building in Queens… #Snowmageddon2015 #blizzardof2015 #Juno pic.twitter.com/WzJlb1MH1M

— Russell Schaffer (@RussOnPolitics) January 27, 2015
There is nothing on this earth funnier than smug people panicking. #Snowmageddon2015

— David Burge (@iowahawkblog) January 26, 2015