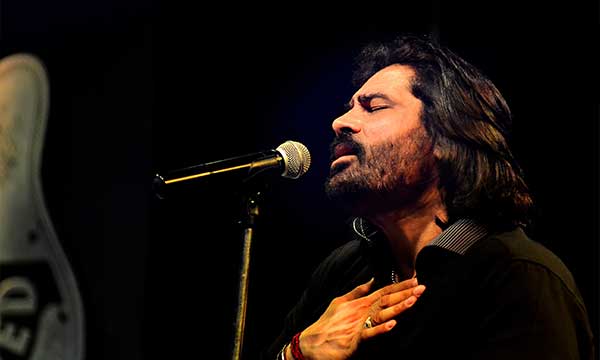 Pakistan's singing Ustaad, Shafqat Amanat Ali has blamed the weather for his botched up performance at Pakistan versus India World T20 match. Ali, who is widely known for his classical singing skills faced the backlash in Pakistan as angry fans criticized him for forgetting lyrics and messing up the performance.
The singer was given the honor to sing the national anthem live in front of thousands of people ahead of the historic clash between Pakistan and India at the Eden Gardens Cricket Stadium in Kolkata on March 19, 2016.
Talking to the Indian media, Ali said, "The only thing which is to be blamed was weather as it rained a lot on Saturday and it upset the whole schedule…We couldn't do anything with the rain, due to which we couldn't do an audio check (before the performance) and I was not aware of the problem waiting for me out there," Ali told the media in New Delhi on Monday."
He said that while he knew there was "some technical problem, at that time the only thing I thought was that the national anthem shouldn't stop in between as it would have looked odd."
Even though he later on apologized, angry fans can't stop blaming the singer but fellow artists have offered their support citing the incident as 'human error'. 
While talking to Tribune, popular singer/actor Ali Zafar said, "I can understand the sentiment of the general public but one thing that should be understood is that human error is something unavoidable,"
Abrar-ul-Haq, the famous Punjabi singer also weighed in saying "The criticism is justified because it is the national anthem and he was representing us, that too in hostile territory," stated Abrar. "But we should not criticise him just because of that. We should, instead, learn from these mistakes. As a nation, we have a terrible tendency of not learning from our mistakes."
Atif Aslam also commented saying that "we should forgive and forget" and that Shafqat Amanat Ali could have used  a telepromter, just like Amitabh Bachchan.
But even Amitabh Bachchan couldn't escape the backlash as a short filmmaker lodged an FIR against the veteran actor for singing the wrong version of Indian national anthem.