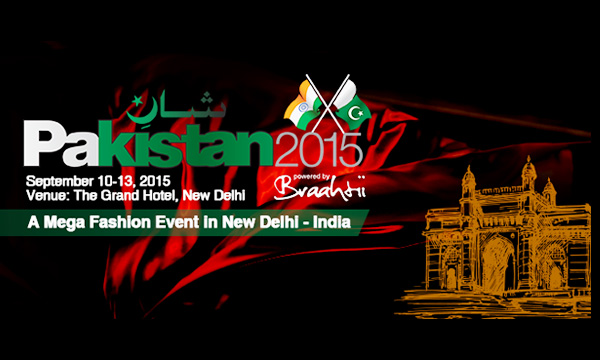 Shaan-e-Pakistan, the three-day Pak-Indo cultural extravaganza Shaan-e-Pakistan powered by Braahtii concluded with a fashion showcase where Pakistani and Indian designers showcased luxury/pret and couture collections on the ramp side by side at the Grand Hotel in New Delhi India.
The designer showcase included Umer Sayeed, Raakesh Agarvwal, Samina Shajani, Sanam Agha, Asifa & Nabeel, Rinku Sobti, Zainab Chottani within the first segment followed by Ali Xeeshan, Poonam Bhagat, SAAI by Sahar Atif, Jyoti Sachdev Iyer, Ritu Seksariya, Rajneeral Babutta and Braahtii by Huma Nassr in the second segment with show director Imran Kureishi on the helm.
The participating designers are:
Ali Xeeshan
Asifa and Nabeel
Braahti
Jyoti Sachdev Iyer
Poonam Bhagat
Rajneeral Babutta
Rakesh Agarwal
Rinku Sobti
Ritu Seksaria
Sahar Atif
Samina Shajani
Sanam Agha

Umar Sayeed
Zainab Chottani
The event also featured Pakistani models Nadia Hussain, Saima Azhar, Ria Khan, Anam Tanveer and Usman Patel as they walked side by side with Indian models on the ramp.
Pakistani celebrity Anoushey Ashraf hosted the show and spoke about the cultural exchange of the platform and the respective designer line-up to follow, proceeded by a short video message of unity and peace from Indian filmmaker Mahesh Bhatt and Pakistani actor Javed Sheikh.
The three-day fashion and lifestyle event was initiated on Thursday 10th September 2015 with a gala night 'Ek Shaam Pakistan ke Naam' where qawwali legend Amjad Sabri performed a fusion of Indo-Pak cultural sangeet.
[fb_embed_post href="https://www.facebook.com/shaanepak/photos/a.902013796558684.1073741833.839730922786972/902014366558627/?type=3&src=https%3A%2F%2Ffbcdn-sphotos-e-a.akamaihd.net%2Fhphotos-ak-xpa1%2Ft31.0-8%2F12017723_902014366558627_5496810487662845110_o.jpg&smallsrc=https%3A%2F%2Ffbcdn-sphotos-e-a.akamaihd.net%2Fhphotos-ak-xpa1%2Fv%2Ft1.0-9%2F11998874_902014366558627_5496810487662845110_n.jpg%3Foh%3D6691dc76df836a0f4936a6421a06a116%26oe%3D56AA9D0B%26__gda__%3D1454087603_de8f7a3ca290c31bf2c6f624dd449c1f&size=2048%2C1365&fbid=902014366558627/" width="550″/]
Shaan-e-Pakistan Day 2 consisted of dedicated stall spaces for participants to showcase their work which included Rana Noman, Poonam Bhagat, Zainab Chottani, Jyoti Sachdev Iyer, Anju Modi, Braahti by Huma Nassr, RJ Attire, Asifa and Nabeel, Sanam Agha, Rinku Sobti, Saai by Sahar Atif, Samina Shajani, Raakesh Agarvwal, SAIRA SHAKIRA, Uber, Le' Vogue, Lady R, Haute Brides & Honeymoons, Aakarshan Gurgaon, Wahaj M. Khan Designs, Araaish – By Shahnaz Malik, Zubaida Aslam – ZA Creations, Sitara Textile Group, Ghazal Pirzada Creative.
[fb_embed_post href="https://www.facebook.com/media/set/?set=a.902047253222005.1073741834.839730922786972&type=3″ width="550″/]