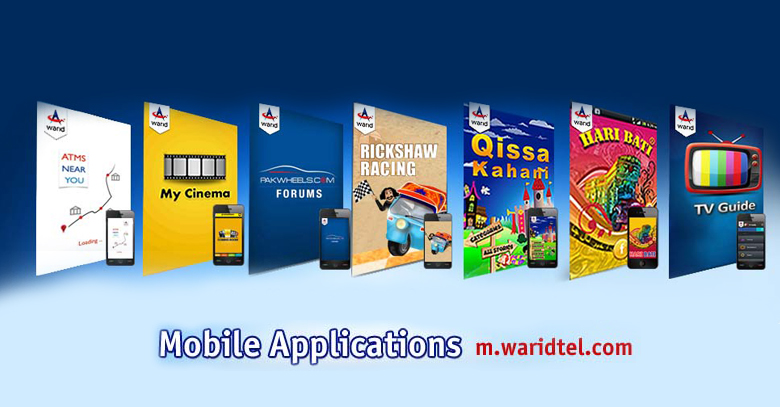 By Zoya Anwer
The telco giants in Pakistan continue to fight the market share war with countless offers and packages; Warid – the telco brand up-for-sale has found a better way to keep its young customers coming back. 
Warid, one of the leading telecommunications brand has to offer the best of the Apps for everyone. Here is our rundown on the Superb Seven Apps by Warid Telecom:
Rickshaw Racing
We all need to kill time at some places don't we? 
Warid's "Rickshaw Racing" with 37 MB is the ultimate app for killing time. Given the desi touch, this app will drive you crazy as you drive your own Rickshaw, which can also be modified.
You can race with opponents, pick and drop people and collect fares too! It can now be downloaded without Warid's service as well.
Warid My Cinema
With cinema revival in its full swing, it is vital to know about the shows shown in the cinemas and Warid has an answer to this need as well.
With Warid My Cinema the users will know about the cinema schedules of the three major cities, Karachi, Lahore and Rawalpindi.
The app will tell you the screening timings, maps of cinemas and movie details like images and even trailers!
The timings are updated regularly as well and users can opt for push notifications too. This App is available for non-Warid users as well and is of 2.8 MB size.
Warid My Dinning
Now who doesn't like eating out? But with so many places to eat, one does get confused too. Warid My Dinning has all these queries under one roof, rather app.
The app helps in finding the restaurant in accordance with the cuisine, address or name and also provides images and feedback with the promotions of the restaurant.
You can sign up using an email id or Facebook and can also post checking in and photos. The App is of 6.8 MB and is available for all users with or without Warid Sim.
Warid Boutique
All the fashionistas need to be alerted for Warid Boutique as the ultimate call for all fashion updates.
The app offers its users to choose various boutiques located in the Lahore city as per the choice.
Now instead of visiting every store, you can see the clothing line presented by brands with a swipe of a finger. The app will help in locating various boutiques, the feedback and promotions as well.
Warid Boutique is of 5.5M and is enabled for non-Warid customers too.
Warid Qissa Kahani
Tired of running after kids all day? Well Warid is here to distract children as well.  Warid Qissa Kahani will make sure that the kids settle down as it plays audio stories.
The story comes with a humble voice and engaging background music. The stories are of five types, Islamic, educational, moral based, Urdu classics and English. This means that now children will learn while having fun.
The App is of 3.1 M and at the moment is for Warid consumers only.
Warid's ATM Locator
How many times does it happen that we urgently need money but helplessly waste time in finding the nearest ATM? Many I believe. Warid's ATM Locator helps the user in locating different ATMs in the area with directions. The bank is also mentioned and it takes the user via shortest route.
With this app in your device, you will never have trouble in finding the nearest ATM. The app size is 2.5M.
Warid Bus Timing
Are you fond of exploring your own country in cheaper transportation?
Then Warid Bus Timing is definitely an app for you. The app tells the Daewoo Bus Services' timings along with fares and also gives complete information about terminals and their location.
Not only this, the app even lets you directly call the helpline for easy booking. The app is now also for non Warid users and will occupy 3.4M in the device.
Beside these Superb Seven Apps, Warid has recently launched two new interactive mobile apps for its customers, namely, PakWheels and Hari Bati.
For PakWheels Warid had collaborate with the leading auto car portal PakWheels.com to bring car buying and selling on all Android mobile phones using version 2.1 and above.
Customers can buy and sell cars and view price information of popular car models in Pakistan.
The PakWheels Android application will allow users to quickly and easily search and locate used cars in their city and also enable them to put their cars up for sale.
On the other hand, Hari Bati is an innovative new mobile application that allows its users to view street traffic on a map based interface.
Users can mark their commonly visited routes and receive regular updates on traffic situation directly on their handsets.
Hari Bati (Green Light) has an in-built notification system that alerts the users about approaching traffic jam. This way, the user can change course and avoid traffic.
Both applications are only available for free download through a Warid GPRS connection. Once downloaded, updates on the app can be received using a  wi-fi connections too.
The launch of these amazing social mobile applications is a key step by Warid Telecom towards service innovation.
Happy Downloading!