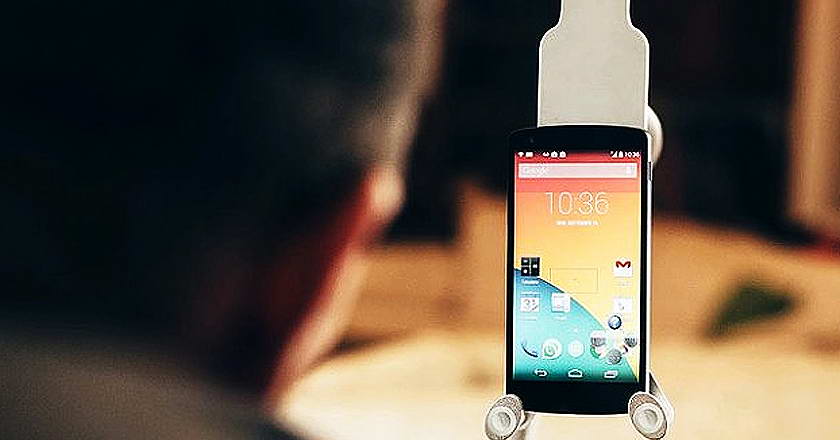 For Giora Livne, a 65-year old Israeli quadriplegic, the smallest of the daily acts was an impossible task after an unfortunate accident 9 years ago. Determined to change that, Livne cofounded the mobile company Sesame Enable, which has now developed the world's first ever hands-free smartphone for the disabled.
Specifically designed for those suffering from disabilities like ALS, cerebral palsy and other spinal cord injuries that limit their movement of arms and hands, Sesame is a Nexus 5 smartphone, running on Android, with a special head-tracking technology.
Paired with this proprietary technology, is a front camera to track head movements and an advanced computer vision algorithm to translate that into controlling the smartphone screen cursor, acting like a virtual finger.
The smartphone's development is currently funded by investment from angel investors, grant from Israel's Office of the Chief Scientist, crowd funding campaigns and a USD 1 million prize for winning Verizon Powerful Answers Award.
The phone is available for USD 1000 but currently, Livne is planning to donate 30 Sesame smartphones to its target market, the disabled population.
With the new hands free smartphone, Livne and others like him are no more dependent on others for basic tasks like making a phone call or sending a text message. While expressing his delight at being able to order flowers for his wife himself for the first time in the past 9 years through Sesame, Livne said, "My life quality jumped from the Stone Age to the smartphone age."
The smartphone is not only developed to help disabled people improve their social lives but also to enable them to get employed.
President of Ruderman Family Foundation, Ruderman, an advocate for disabled people, said, "We live in an age where you have to use technology to compete and function in the workforce, and if that technology isn't built in a way that allows you to participate, you are essentially frozen out of the workplace. This isn't just for one individual; we are talking about millions of people around the globe in the same situation."
The smartphone's first shipment is ordered by Indiegogo, all ready to be shipped in March 2015 with a promise for the release of the tablet version later in the year.
Giora Livne got the inspiration for the Sesame phone while watching a demonstration for a video game that operated using head movements. He, then, contacted the game developer, Ben Dov, and started working on the development of the idea together.
Three years later, they have successfully developed the world's first ever hands free smartphone. Aptly named, Sesame, to indicate that it opens the world of possibilities for the targeted users, the smartphone turns on with words, "Open Sesame".