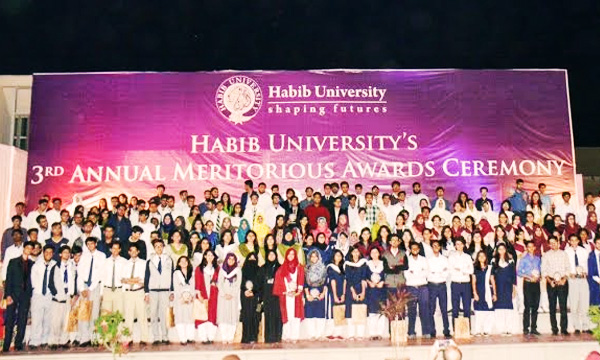 Habib University held its 3rd Meritorious Awards Ceremony to recognise students who demonstrated strong academic achievement, an event that truly rewards academic excellence while ensuring student's skills and talents are not just limited inside the classroom. The institution itself is all-inclusive and merits strong academic skills as well as extra-curricular activities.
The Meritorious Award ceremony, which was organised at the university's campus in Karachi, was a celebration of exceptional students from high schools across the city.
The achievements that were rewarded were of a purely academic nature, with the event being attended by students from several schools across Karachi, their parents and renowned educationists of the country. It was in recognition of this achievement coupled with Habib University's promise of facilitating all deserving students that an application fee waiver was also announced for the recipients of the Meritorious Award.
Here are a few highlights and pictures from the event below:
Present at the event, Mr. Wasif Rizvi, President Habib University, said: "It is vital that students feel welcomed and appreciated for the efforts they put into their pursuit of excellence, whether it is through academia or community-based activities. This remains the core reason for holding the Meritorious Awards Ceremony at Habib University, so students' achievements are recognised and rewarded. This way they would be encouraged to continue their unrelenting hard work and service."
A total of 380 students attended the event along with their parents, spanning from Karachi, to Hyderabad and Rashidabad. The schools represented in the Meritorious Award Ceremony were Rockford Cambridge School, Hyderabad, Sargodian Spirit Trust Public School, Rashidabad, Bonaventures High School, Hyderabad, Aga Khan Higher Secondary School, Bayview College, Beaconhouse College PECHS and Defense Campus, Beaconhouse School System Gulshan & North Nazimabad, Cordoba School, Dawood Public School, Foundation Public School, Generations School, Habib Girls Higher Secondary School, Nixor College, South Shore School, St. Michaels Convent School, St. Patricks School, The City School Defense, Gulshan, PECHS and PAF Chapter, and Whales School.
Students and parents were also given the opportunity to interact with inspiring educationalists, attend highly motivating speeches and receive individual attention with regards to their academic queries. They were also taken on a campus tour and a visit to the Admissions Info Zone.
The award ceremony concluded with a performance by the renowned Tabla & Sitar artist Yousaf Kerai, along with small skits performed mid-ceremony.
To find out more information about this award, as well as about Habib University, please visit www.habib.edu.pk and www.facebook.com/HabibUniversity.
Stay tuned to Brandsynario for more updates.