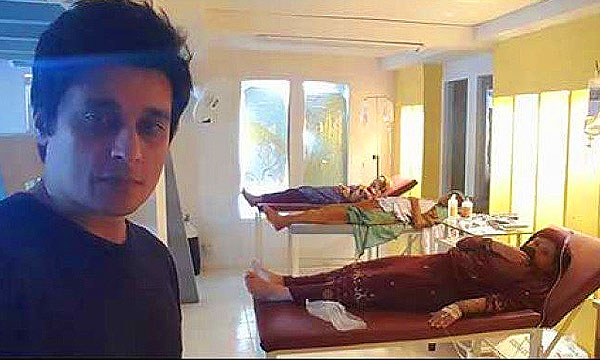 Following Komal Rizvi's infamous selfies with Mr. Edhi, Sahir Lodhi has just posted his version of charity selfies at his Facebook profile.
Komal Rizvi recently made headlines and became the subject of social media mockery when she posted her selfies with the ailing Sattar Edhi. While she was criticized very harshly for the insensitive act, it seems like she has apparently set a trend.
Read more: Komal Rizvi's Selfie With Edhi Causes Backlash on Social Media
Notorious television and radio show host, Sahir Lodhi has just posted a number of selfies with patients at his charity organization, The Sahir Lodhi Foundation's free clinic, Roshan.
[fb_embed_post href=" https://www.facebook.com/sahirlodhi/posts/10153425720907088″/]
While his intention might be to simply promote the good deed and earn some donations, it may appear to be a bit insensitive. Perhaps as another option he could have simply used publicity photos like all other charities , rather than put afflicted men and women in the spotlight.
Read more: Komal Rizvi's Selfie With Edhi Memes – Taking Selfies to the Next Level
The fact that the celebrities are using their status to help the ill-fated is quite appreciative but they should realize the fine line between being compassionate and being insensitive.
The pictures have already gone viral on the internet; while some have criticized him for showing off and being tactless, his hardcore fans have commended him for doing a good job.