On the set of Voice Over Man, Saboor Aly confessed that if she found out that her man was cheating on her, she will give him what he deserves.
A recent survey revealed that the banned dating app, Tinder had more than 70% of men who were married. Even our Pakistani dramas show how much men cheat on their significant others. Upon asking the drama creators why they offer only such dramas, the creators replied that its because they reflect the reality of our society. However, most of the time, we see that women forgive their partners because they either dismiss them or because society wants her to.
Normalized Cheating?
Not long ago, we witnessed the Uzma Khan case as well. When she was found with a man, the man's wife beat her up. And later on, Uzma Khan made a deal to disappear from the spotlight quietly. Do keep in mind that the man in that picture was not brought into the discussion even once.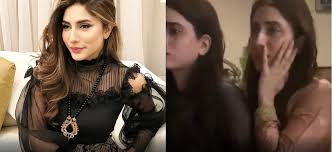 Now Saboor Aly was invited to the show where Voice Over Man is known to heat things for his guest. He asked questions such as her opinion on Aima Baig's singing and her English. He asks questions that are not just fun but very leading and can turn into celebrity rivalry. In the same flow of items, he wondered Saboor what she would do if she caught her boyfriend cheating on her.
Voice Over Man asks
The exact question went somewhat like this:
"What will you do if your boyfriend cheats on you?
Option 1) Make a deal like Uzma Khan
2) Lots of melodrama and crying
3) Take advice from Adnan Siddiqui because of his experience
4) Beat the girl and leave the guy, which usually happens."
To this, the actress replied, why would she beat up the girl. She claimed that she wouldn't blame the girl for her boyfriend's wrongdoing (Now, that is women's power). Moreover, she also said that she would have two way forwards. Option 1 will be that her boyfriend comes clean. In that case, she will forgive him and break up. However, option 2, if he refuses to accept his mistake, 'I mean he deserves it, no?'
"phainti to banti hai, nahi?"
So whoever ends up dating her, if you cheat, you will be asking for it. And well, why bother cheating? I mean, the idea of cheating is beyond me. Suppose you are no longer in love with someone, ber clear with it, and break it off with them. They don't deserve what you put them through. But rest assured, Saboor Aly will not take the mainstream approach and blame the girl; she will be coming after you.
Stay tuned to Brandsynario for the latest news and updates!