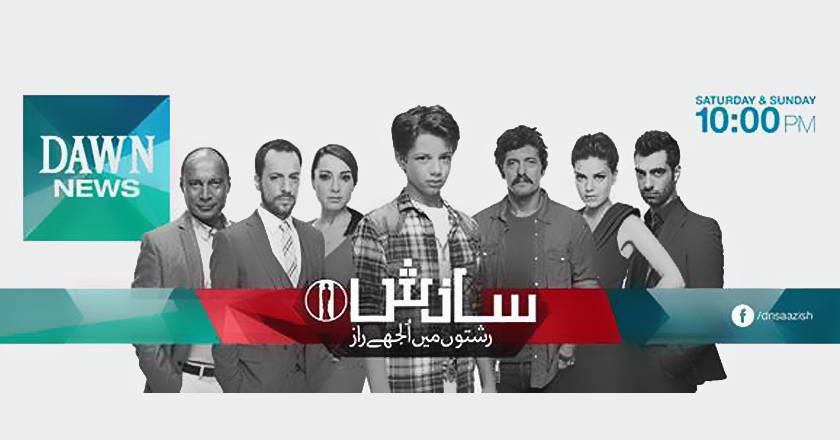 "Aik saazish jo beniqaab honai ko hai,"
No, we aren't exposing any political scheme or a celebrity scandal here but introducing the latest drama sensation of Pakistan's media industry these days i.e, Saazish – a Turkish drama based on a thrilling and suspense-filled story about a wealthy family and their dark secrets has been making waves in the media industry of Pakistan. 
Saazish is Dawn news' first attempt to establish its name in the drama category and judging from the eerie yet interesting billboards placed across Pakistan's major cities and aggressive TV coverage, it seems the channel is not leaving any stone unturned in its efforts to promote its content.
The show, backed by Zong and Qmobile is being aired on weekends (Saturday and Sunday) at 10:00 pm. The first two episodes of the serial have successfully intrigued the audience and advertisers' interest alike.
The opening episodes have established the storyline which revolves around an affluent Turkish family whose son is kidnapped. When the kidnapper warns them against going to the police, they have no choice but to enlist an ex-police officer who works as a private detective.
The detective soon finds that this is no ordinary kidnapping case and that the abductors aren't after money. As he digs deeper into the case, he realizes that the family may not be as innocent as it seems, and perhaps one of them is actually behind the boy's disappearance.
With high production values, expert cinematography and a gripping plot, Pakistani drama audiences can finally take a break from the usual husband-wife and saas bahu drama and actually experience thrill and suspense in a drama serial.
Did you like Saazish's first episode? Watch the Saazish trailer here and tell us in the comments below: