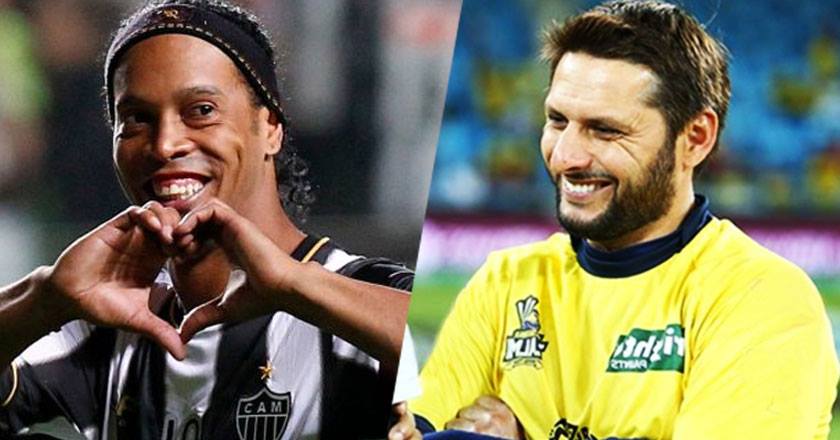 Legendary Brazillian footballer, Ronaldinho Gaúcho is coming to Pakistan! The 36-year-old player infamously won the 2002 World Cup! He announced the news in a video message where he is seen  holding Pakistan's flag and said 'Pakistan, I am coming!'.
Pakistan I'm coming! 🇵🇰 🙌🏽 #RonaldinhoInPakistan #worldgroup1912 #leisureleaguespk @leisureleagues pic.twitter.com/y6GwHf131r

— Ronaldinho Gaúcho (@10Ronaldinho) March 12, 2017
Ronaldinho has signed a contract with Leisure Leagues Pakistan along with more big names from the game. The player is expected to promote football in the country by participating in the Exhibition matches. After cricket fans got a taste of having a local premier league, football fans have been elated ever since the Leisure Leagues have been announced.
Soon after the announcement, our lala took to twitter to wholeheartedly welcome the celebrated footballer.
– Welcome @10Ronaldinho it is good to see more international sportsmen visiting my beloved country… #football #Pakistan

— Shahid Afridi (@SAfridiOfficial) March 14, 2017
Ronaldinho responded with the same vigour and love for our national star and wrote a tweet in his native language.
Feliz pelas palavras Shahid Afridi BOOM BOOM herói de críquete do Paquistão. Aguardo c grande expectativa minha visita ao Paquistão em julho

— Ronaldinho Gaúcho (@10Ronaldinho) March 15, 2017
"Happy by the words [of] Shahid Afridi BOOM BOOM cricket hero from Pakistan. I look forward to my visit to Pakistan in July."
And lala responded by saying that he eagerly awaits his arrival:
@10Ronaldinho Awaiting ur arrival brazilian superstar nd ⚽️ legend. Will be a pleasure to show u my 🇵🇰. #HopeNotOut https://t.co/HOqvKVMR16

— Shahid Afridi (@SAfridiOfficial) March 15, 2017
Along with Ronaldinho, Dutch footballer, George Boateng and English former goalkeepeer, David James are expected to be part of the trip to the Land of Pure.
Leisure Leagues is a UK-based football organisation that is also considered as the largest provider of five-a-side, six-a-side and seven-a-side leagues in Europe, prominently in England, Wales, Scotland, Ireland and USA. This could pose really well for the football scene in Pakistan and polish upcoming talent through the league system.
Stay tuned to Brandsyanrio for latest news and updates.