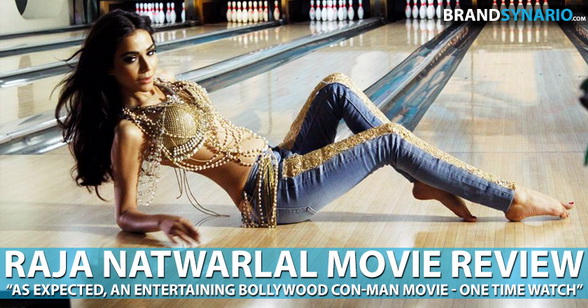 Two spoonfuls of star-studded power added to a generous helping of intimate scenes & some show of skin, topped with  senseless comedy, mixed with a pinch of action and a pinch of drama! 
Voila! With my years of watching commercial Bollywood hits, I just made the perfect recipe for a two and a a half hour long conventional hit Bollywood movie.
Raja Natwarlal, with an added essence of cross border beauty, had that little something extra to attract the masses but unfortunately, the curiosity turned to regret only after  the first half an hour of the movie. 
To all those who are planning to spend a good time watching Raja Natwarlal – do it if you have nothing better to do with your spare time.
Directed by Kunal Deshmukh and written by Parvez Shaikh, the movie begins with the protagonist, Raja (Emraan Hashmi) dancing on the track Dukki Tukki that rightly establishes him as a conman who is generous at heart, appealing in looks and witty with his  tongue (Why don't these killer cons ever come out of the screen I wonder!) 
Anyways, moving ahead, Emraan alongwith his elder brother/friend/ally Raghav (Deepak Tijori) plans to try their hand at their very first robbery.
Watch the trailer here:
Successful and happy, the duo celebrates their first con victory with the song Namakpaare – oh yes! That reminds me of the cross border beauty and the fact that she too, was part of the movie! 
Humaima Malick (Zia), the leading lady is a bar dancer and Raja's damsel in distress who flaunts her curves, dances, sings, supports and protects her man – somehow the perfect wife material.
Getting back to the story, it so happens that Raja and Raghav's happiness turns into a nightmare when Raghav realizes that they have landed in trouble, as the money stolen belongs to a notorious cricket fanatic multi-billionaire Vardha Yadav (K.K Menon) 
Virat's men kill Raghav right in front of Emraan Hashmi; ergo – the revenge plot begins and continues for the next two long hours.
Raja then decides to avenge the death of his best buddy by going to Yogi (Paresh Rawal) an ex-con expert who reluctantly agrees to help him formulate a plan and destroy Vardha Yadav. 
This fictional tribute to 'The Modern Day Natwarlal of India' despite its fumbling script, disjointed screenplay and sluggish pace did manage to get a few whistles from the Pakistani audience atleast.
The witty dialogues between Emraan Hashmi and Paresh Rawal did manage to generate some reluctant laughs while K.K Menon's strong addiction to cricket was worth a few scenes of interest. 
What really got the audience hooting were Humaima's flaunting curves, skimpy clothes and some eye popping intimate scenes with the serial kisser of Bollywood himself? (Well, we did see that coming from the trailer anyway)
Raja Natwarlal, on the whole failed to hold on its own, let alone impress the audience.
The storyline and the master revenge plan had flaws that will leave you questioning your IQ level, the acting comes in brief glimpses and the mindless comedy that makes you bear the stupidest of all movies was sadly missing. 
A bad rip-off of Akshay Kumar's Special 26 and Emraan Hashmi's Jannat, the movie had all the elements of a commercial hit but still failed to provide its audience a good entertainment package. 
Our Verdict: 
Acting: 2.5/5
Story: 2/5
Direction: 2/5
Screenplay: 2/5
Overall Rating: 2/5
Disclaimer: The views expressed below solely belong to the writer and does not necessarily imply Brandsynario opinion towards an individual or a group.