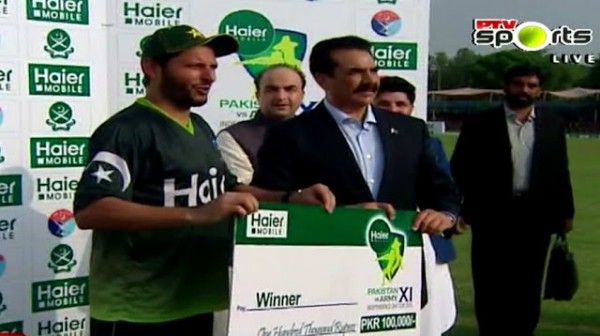 The Independence Day T20 Cricket Match between the honorable army of Pakistan and our national cricket team at the GHQ stadium, Rawalpindi was surely the best part of 14th August this year. Expressing solidarity with the lost heroes of the nation, the match was opened by Chief of Army Staff General Raheel Sharif who was the chief guest of the occasion.
The top highlight of the whole T20 was General Raheel Sharif inaugurating the friendly T20 by hitting a phenomenal four, bowled by Afridi with Major General Asim Bajwa as the wicket keeper of the delivery.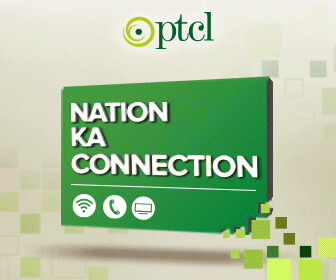 Watch the epic moment here. [dailymotion id="x31n2bw"]
According to the Director General Inter-Services Public Relations Major General Asim Bajwa, proceeds of the cricket match will be donated to Internal Displace Persons (IDPs).
All sales proceeds from Haier Azadi Cup b/w Army & Pakistan 11 presented by me 2 Gen Raheel Sharif for FATA IDPs pic.twitter.com/gF83ExTwPz

— AsimBajwaISPR (@AsimBajwaISPR) August 14, 2015
[fb_embed_post href="https://www.facebook.com/ISPROfficial1/photos/pb.438762759487669.-2207520000.1439643443./988396087857664/?type=1&theater/" width="550″/]
Leading the army team was none other than Boom Boom Afridi who was battling the world's best test captain Misbah-ul-Haq, heading the Pakistani cricket stars.
The national squad won the toss and decided to bat, allotting the Pakistan army a target of 104 runs. The army effortlessly succeeded in achieving the mark and won the charity match by six wickets. Lala aka Afridi who reaped 44 runs with 4 sixes and 2 fours to his name was declared the Man of the Match.
Shahid Afridi might have been the star of the game, but clearly Raheel Sharif stole all the limelight for the day due to his smashing boundary!
Read what the cricket stars and cricket fans at Twitter town had to say about the memorable Independence Day match 2015.
Special Tx to COAS Gen Raheel Shareef for acknowledging the IDP's Match today though a 1st boundary from him on my ball:mrgreen:. #PakistanZindabad

— Shahid Afridi (@SAfridiOfficial) August 14, 2015
Playing a festival match arranged by Pak army in Rawalpindi..also wil celebrate Independence Day in a Best manner https://t.co/uiefLsfNc9 — Mohammad Hafeez (@MHafeez22) August 13, 2015
Celebrating 14th Aug wid Soldiers is more worthy thn anything in life. Grt feelings. #PakistanZindabad @AsimBajwaISPR pic.twitter.com/FA3U0sD2zQ — Ahmad Shahzad (@iamAhmadshahzad) August 14, 2015
What a beautiful moment when gen. Raheel sharif hit boundry on lala's ball.. 😍✌ — Pakistan zindabad✌ (@RehabQF) August 14, 2015
Two of the most loved Pakistani man play the most loved Pakistani sport. Afridi bowls,Gen Raheel Sharif bats pic.twitter.com/gapv0BfkUh — sumairajamil (@real_sumaira) August 14, 2015
Raheel Sharif plays a 4 in the first strike? Impressive 😄 — Ufaq Ashfaque (@Ganache007) August 14, 2015
COAS Raheel Shareef hitting a 4 on @SAfridiOfficial's bowling is a rare sight to witness — Moochar (@AsliBinLaden) August 14, 2015
COAS Raheel Sharif hits Shahid Afridi for a four in a friendly cricket match between army eleven & Pakistan eleven #IndependenceDay — Ekk thi Jalebi (@ErumSKhan) August 14, 2015
Epic moments on TV now #IndependenceDay T20 match — Haris Mumtaz (@HarisMumtaz81) August 14, 2015
HAIER independence day t20 cricket match 2015 between Pakistan XI vs Army XI, woah happiness!! 👏:) — بسمه (@bismaaaaaah) August 14, 2015
Shahid Afridi , Misbah-ul-haq and Army Chief 👌 Too much awesomeness Together 💕 T20 #AzadiMatch

— $yed Daud $hah (@Daud_king) August 14, 2015
That Awesome Moment when Afridi bowls, Raheel Shareef bats and Asim Bajwa Keeps. #AzadiMatch #PakistanZindabad pic.twitter.com/Wjp459Vkav

— Pakistan Zindabad (@imAQadir) August 14, 2015