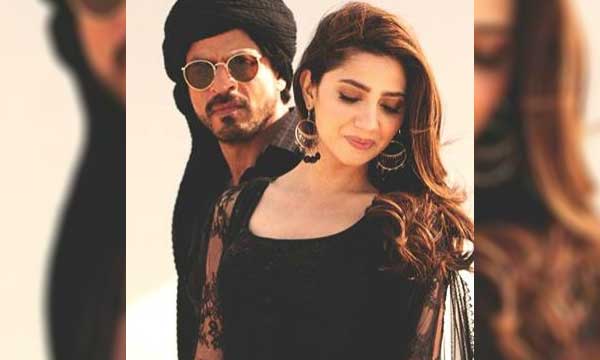 The moment we all have been waiting for is finally here! Raees is all set to hit the cinemas today and early reviews have started pouring in about Mahira Khan's big Bollywood debut! Of course, movie-buffs who have seen the film can not keep calm and have taken to Twitter to make others envious.
The action-crime thriller has been set in Gujrat, dating back to the 1980's.
#Raees all songs are very good something deferent and very nice song all @iamsrk work very well in the movie specially #Gujarati style

— Aahil (@AahilKumar) January 25, 2017
#Raees: #ShahRukhKhan take a bow. Full on entertainment. Dialogues are to DIE for. A MUST watch. Super Hit!! #ApnaTimeShru. #Review pic.twitter.com/KVVd2Bs3NA

— salil sand (@isalilsand) January 24, 2017
Shah Rukh Khan plays the role of a noble-hearted gangster, Raees who has an illegal business, only to help the needy!
Climax Of #Raees is so terrific n amazing that you will glued to the edge of ur seats👌check full review here ! 4*/5 https://t.co/rmbTxgDsV1

— Aavishkar Gawande (@imaavi) January 24, 2017
Reviews reveal that the Bollywood Badshah has left no stone unturned to portray his rowdy avatar.
#Raees nobody better than Shah Rukh Khan could have done this role @RaeesTheFilm @iamsrk

— Businessofcinema.com (@BOCLive) January 24, 2017
#Raees special premiere show just finished . Wow , I mean WOWWWW . That is a hell of a film . @iamsrk just stole the show

— Perera (@HelloMrPerera) January 24, 2017
SRK's acting was so power-packed that it even reminded many of his old performances.
Watched #Raees & its #SRK show all the way. His eyes express honesty. The film takes us back to his earlier work. He is back – Fabulous

— Asad Shan (@asadshan) January 24, 2017
Our Pakistani Queen plays SRK's love interest and people are loving their couple.
.@TheMahiraKhan gets limited screen time but manages to deliver a solid performance. #Raees

— News18 Movies (@News18Movies) January 25, 2017
#Raees @TheMahiraKhan as I expected has done her part brilliantly. Her chemistry with @iamsrk looks real n beautiful. @RaeesTheFilm

— AaHiL (@_Khan_Aahil) January 25, 2017
@TheMahiraKhan looks more beautiful on the big screen 😍 You perfectly portrayed the role. #Raees

— uk (@Umangkelani) January 25, 2017
4.5 Stars at @FinancialXpress #Raeeshttps://t.co/qVhbTI81SI

— Abhishek Parihar (@PariharOfficial) January 24, 2017
However,  it is Nawazuddin Siddiqui who is stealing the thunder of both the Khans.
@Nawazuddin_S bhai what a brilliant performance in #Raees you're a genius sir. You're already an all time great actor of Indian cinema

— kunal kohli (@kunalkohli) January 25, 2017
What chemistry between @Nawazuddin_S & @iamsrk there were more fireworks there than the love track Chor-Police chase is back! #raees

— Archana Pania (@Archanaapania) January 24, 2017
.@Nawazuddin_S steals the show with his amazing one liners @iamsrk @RaeesTheFilm #Raees

— Businessofcinema.com (@BOCLive) January 24, 2017
As a determined, obstinate policeman, he has wowed the critics and proved he is a big asset to the plot.
#Raess is a crackling vintage @iamsrk @Nawazuddin_S rollercoaster ride.
Good luck to my school bud @rahuldholakia n all at @excelmovies 👍🏽

— atul kasbekar (@atulkasbekar) January 25, 2017
Seems like SRK & Nawaz's chemistry have worked its magic in the movie!
#Raees is a big masala entertainer. #ShahRukhKhan is mindblowing. @Nawazuddin_S is amazing. Go and whistle in theatre 👌👌👌👌👌 @iamsrk

— Raghuvendra Singh (@raghuvendras) January 24, 2017
#Raees 1st half Belongs only to @iamsrk but 2nd half belongs to both @iamsrk nd @Nawazuddin_S… Dono ne mill kar AAG laga dala hai…

— rohit jaiswal (@rohitjswl01) January 24, 2017
#Raees = SURE-SHOT HIT… SRK and Nawazuddin are the lifeline… A must must watch!

— taran adarsh (@taran_adarsh) January 24, 2017
#ShahRukhKhan is at his A game yet again. And his chemistry with @Nawazuddin_S is scene stealing. Don't miss #Raees. @RedChilliesEnt

— nayandeep rakshit (@NayandipRakshit) January 24, 2017
Read what Bollywood publications have to say about Raees!
#Raees review: Commercial roller-coaster ride, which has some excellent seeti maar moments. #raeestomorrow #RaeesKoNahiChhodungaMain 1/3

— indiboxoffice.com ® (@Indiboxoffice) January 24, 2017
#RaeesReview LIVE: Action, drama & spectacular performance by #ShahRukhKhan, #NawazuddinSiddiqui, makes @RaeesTheFilm a paisa vasool film.

— Bollywood Bubble (@bollybubble) January 24, 2017
Raees movie review: Nawazuddin Siddiqui steals Shah Rukh Khan's thunder in this predictable gangster drama https://t.co/sItoGXBmS5

— Bollywood Updates (@BollyWood_Hood) January 24, 2017
#RaeesReview: @iamsrk's film is stuck between tamasha and restraint https://t.co/GcaEdtwG30 pic.twitter.com/EzvnkC2fUV

— IE entertainment (@ieEntertainment) January 25, 2017
While director Rahul Dholakia is being lauded for his cinematic endeavor, SRK and Nawaz have been given a thumbs up for their stellar performances, Mahira Khan's acting is being bashed by many Bollywood critics.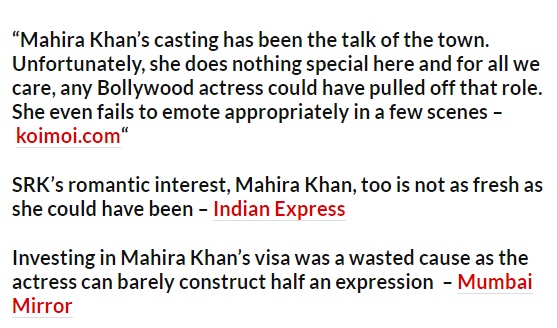 Such harsh reviews hint they Indian critics are probably being biased towards our Humsafar haseena, who has proved her mettle countless times in the entertainment industry!
Mahira Khan is Being Treated Like an Untouchable by Raees Producers: Atiqa Odho
Stay tuned to Brandsynario for more updates!