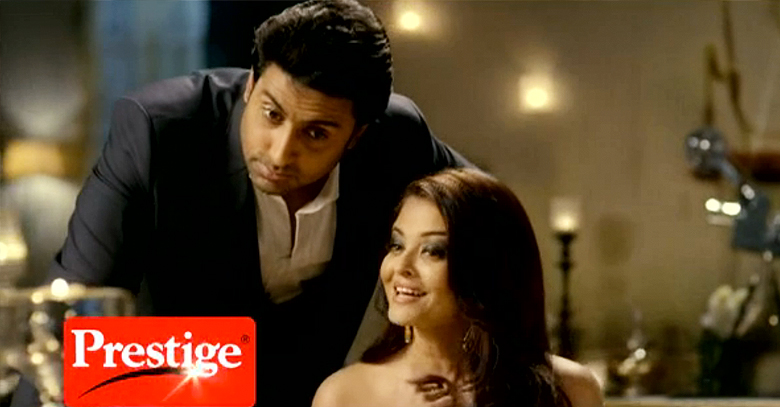 Kitchen appliance makers, Prestige took aboard the most famous celebrity couple of the sub-continent, Abhishek Bachchan and Aishwarya Rai Bachchan. Prestige has had one of the oldest and long lasting Taglines in advertisement history, "Jo biwi se kare pyaar, woh Prestige se kaise kare inkaar…" (The one who loves his wife cannot refuse Prestige), nevertheless the same line in Abhishek Bachchan's voice spoken to 'Aishwarya Rai Bachchan' – adds "that" much more charm to it.
The Bachchans have recorded a six-film campaign, created by DDB Mudra, which went on air on October 4th and will continue for the next four months.
Classically made, the ad seems to have been manufactured to preserve the old brand essence and Big Idea. However, with the eminent presence of the Bachchans, the TVC gives out a 'feel' that DDB Mudra and TTK Prestige have subtly repositioned the brand for the new age consumers.
Other than that, the TVC shows the "same ol" togetherness and bonding in Kitchen, with the undying love that perfect kitchen appliance brings in every home.
One of the films in the current campaign introduces the couple while showcasing the entire TTK Prestige range, while the other five highlight specific product lines: pressure cookers, non-stick cookware, Prestige Schott gas tables, induction cook-tops and mixer grinders.
TTK Prestige is a subsidiary of the TTK Group India, an 85 year old business conglomerate that maintains its presence in several industries including consumer durables, pharmaceuticals and supplements, bio-medical devices, consular visa services, virtual assistant services and health care services.