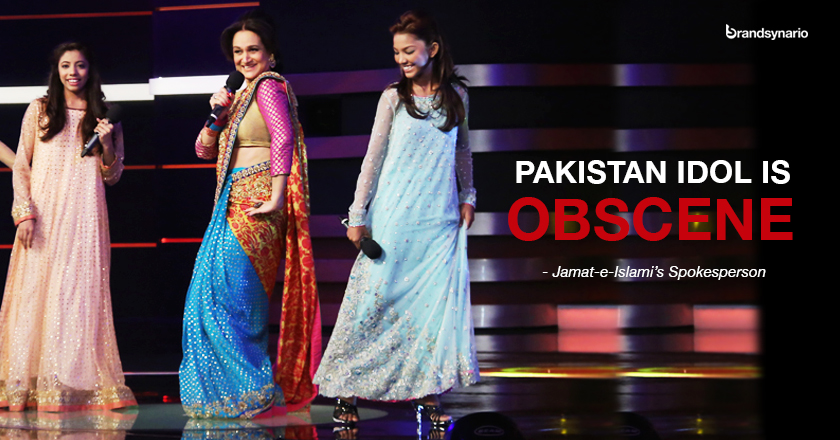 They've been ridiculed, sued, blamed and now it's time for political interference.  
Internationally acclaimed musical reality show, Pakistan Idol is once again in hot waters as a prominent political party in Pakistan, Jamaat-e-Islami (JI) has branded the show 'Obscene'. 
JI has taken a strong stance at the airing of musical shows like Pakistan Idol in Pakistan
Presenting the calling notice today at the Parliament, JI members emphasized on the fact that Pakistan came into being on the basis of Islam and therefore no un-Islamic activity against the teachings of Holy Quran and Sunnah could be allowed in this part of the world.
JI's lawmaker Sher Akbar Khan, while talking to a local website said,
"My move is against what is being aired with girls and boys singing and dancing together. This is a kind of obscenity," Sher Akbar replied when he was asked what he found obscene in the Pakistan Idol. 
Responding to the calling attention notice, Federal Minister for Inter-Provincial Coordination (IPC) Mian Riaz Hussain Pirzada assured the House that the government would look into the matters and will take required action against channels.
On the other hand, Iqbal Muhammad Ali of the MQM called the musical reality show as good source of entertainment and a healthy activity. He said the 'Pakistan Idol' provides for competition for selection best singers.
Wrapped in controversies, Pakistan Idol started with  strong criticism against the eligibly of its judges, Hadiqa Kiani's weird hair-dos,  Ali Azmat's rude attitude and Bushra Ansari's not-so-age defying attempts at fashion became a matter of public ridicule.
Things got worse when the show was sued by T-series India for using content without permission.
Pakistan Idol has now entered its final stages and we sincerely hope that it completes its troublesome journey without any further mishaps.