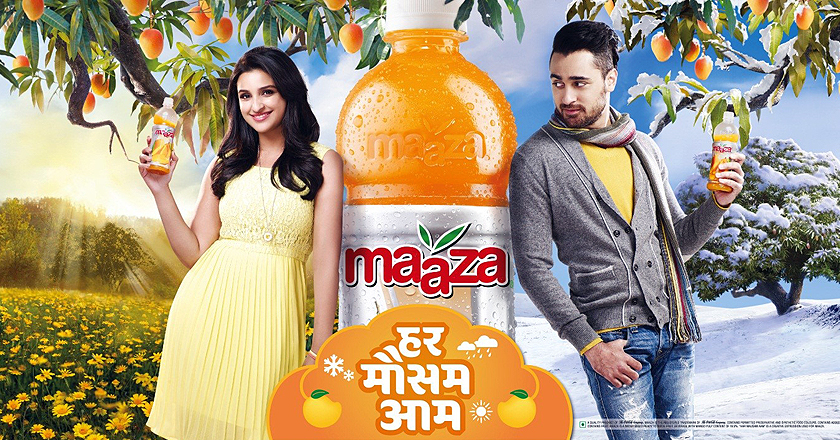 By Zenub Ayaz
Bollywood's two hottest stars Parineeti Chopra and Imran Khan are ready to launch the mango season in India for mango juice brand, Maaza.
The Coca-Cola owned mango juice brand's latest  campaign 'HarMausamAam' claims to provide the finest mango experience in a bottle . The campaign have been launched in India through OOH, digital, point of sale merchandise and on-ground initiatives.
The ad starts off with Parineeti fantasizing about the mangoes in a self-created time machine. In order to convince Imran to experience the same mango fever she shows him how the machine works but only to realize that it has broken apart.
Imran, who from the start looks cynical over this idea teases her calling her a genius. The ad ends with Imran plucking out a bottle of Maaza from the air and presenting it to Parineeti, followed by voice over presenting Maaza as 'Harmausamaam'
Last year, Maaza used the same star cast as their brand endorsers. Apparently, the juice brand is looking to latch its consumers' minds with a fun and playful positioning through Bollywood actors with the same deposition.
On the other and quite the opposite hand, Slice, the only strong competitor has long upheld Katrina Kaif as it brand ambassador. Their approach has always been sensual and erotic in nature. It often keep folks wondering whether they're promoting juices or Viagra.
Well, all said and done the mightiest of fruits, Mango is back with a bang and like every other year, the world specially Asians are waiting to savour the juicy taste in every possible state.
So be prepared to enjoy many more juices, ice creams, desserts, drinks and sweet – all mango flavored!