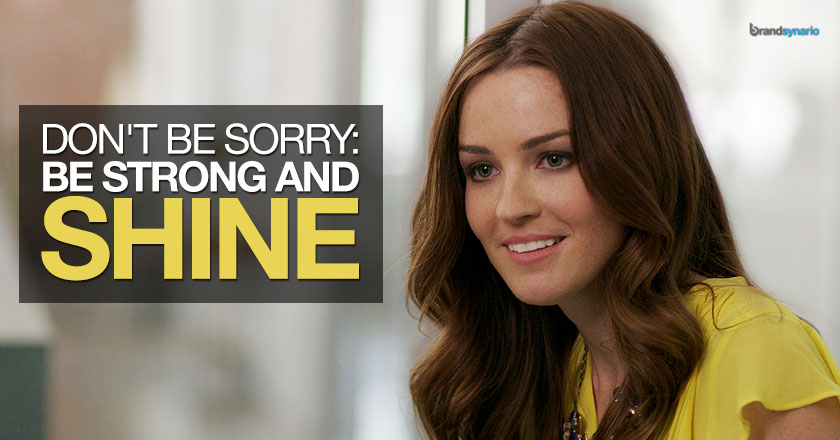 No more sorry ladies!
Pantene's latest video titled "Not Sorry" is designed to make women realize that there is a difference between being kind/polite and being trained to be automatically apologetic. As a part of Shine Strong campaign against women over-apologizing, the ads overall message is, "Don't Be Sorry: Be Strong and Shine."
Kevin Crociata, Marketing Director of North American Hair Care business said, "We used market research to look at what gender norms were holding women back and tried to tap into the most relevant and insightful areas. This problem of saying sorry, it wasn't just something women in the U.S. were facing but globally. After the success of the first campaign, Shine Strong is something we're committed to as a brand, " 
As a follow-up to last year's "Labels Against Women" from the Philippines, which showed how identical behavior by men and women earns them different labels in the workplace and has been watched more than 46 million times on YouTube. The hair care brand is holding up a mirror to women with the Shine Strong campaign and showing how being authoritative isn't a bad thing.
Let's have a look at the ad:
Pantene introduced new global Shine Strong Fund being inspired by the positive response to the Shine Strong campaign to continue the conversation, ignite change and help more women in more ways. The mission of the Shine Strong Fund is to educate and enable women to overcome bias and/or societal expectations so they may reach their full potential, as well as celebrate the many strong women in the world who exemplify the essence of Shine Strong.
"Pantene is committed to helping women across the globe be strong and shine both inside and out," stated Colleen Jay, president, P&G global hair care and color. "We are certain this evolution of the Shine Strong campaign and roll-out of the global Shine Strong Fund will inspire action and change. We believe the message of the "Not Sorry" video will resonate with women, encouraging them to be more aware of this diminishing behavior and, in turn, prevent any bias they may be unconsciously creating."