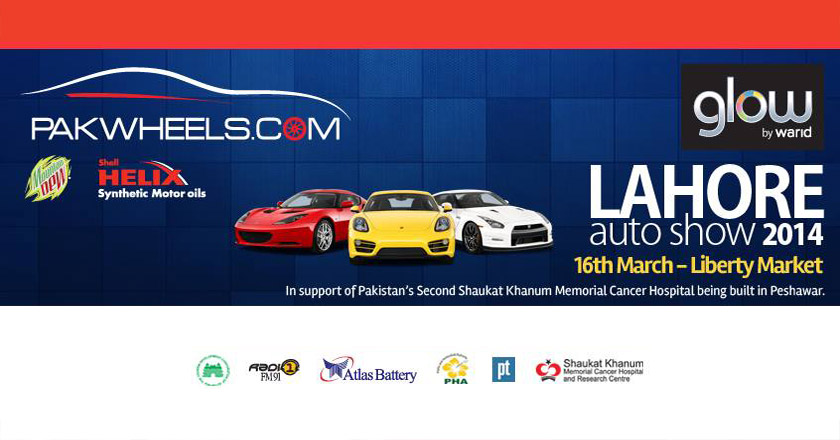 All the automobile lovers, Pakwheels is giving you yet again a chance to quench your desires. Pakwheels is hosting the annual automobile show in Lahore, in Liberty Market area on 16th March, 2014.
The show will be inaugurated by Fawad Khan on the designated date, which will mark the opening of the Lahore Auto Show 2014.
At this annual Pakwheels Lahore Auto Show 2014, the wheels that will be showcased include not just custom cars, sports cars & customized cars but will also include the most fine sports bikes from all over the country.
The splendid love of Lahori's for automobiles is not a new thing but is instead a well known fact that will be highlighted very well in this upcoming event. Expected to turn out at the Auto show are Lahore's most famous auto beauties from the house of Ferrari, Aston Martin, Lamborghini, Camaro, Volkswagen and Mercedes, to name a few.
The show is being sponsored primarily by Warid while Shell, Mountain Dew and Atlas battery follows. Lahore Automobile Show 2014 is said to feature 500 cars for the cherishing of audience.`
After the stunning success of Lahore Auto Show 2013, this advent of PakWheels has set forth a new spirit for the automobile lovers, while also receiving much praise on social media. By the sound of it, the Lahore Auto Show 2014 is expected to allure a lot of youth from all over the country.
As by the sound of it, the show will not only cater to a large number of youth from all over the country but will also be attended by families, as it poses a source of entertainment specially for the fun loving people of Lahore.
The Director of PakWheels was found commenting,
"Family entertainment shows like the Auto show will help revitalize this city with new fests. Pakwheels has always remained committed to promote such pleasurable events and serve the society."
With all the busyness of the city, the Lahore Auto Show 2014 will definitely provide much more than a simple Auto Show for all ages, just like its Auto Show 2013.