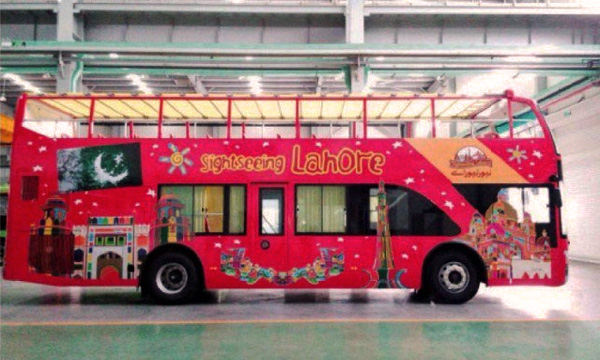 Pakistanis may soon be able to witness the magical beauty and historic heritage of the City of Gardens, Lahore, from atop the most iconic red Double-Decker buses the world has seen!
Thanks to the efforts of the Tourism Development Corporation of the Punjab (TDCP), Pakistan's first ever double-decker bus service is about to commence for tourists touring the city, with the bus service project being called 'Sightseeing Lahore'.
According to Ahmar Malik, Managing Director of the TDCP, the corporation has placed orders for two custom-made Volvo double-decker buses, at the cost of about PKR 40 million ($376,000), that will soon be delivered to Karachi. Furthermore, the bus service would begin operations in mid-October soon after their expected delivery date of October 9 – October 10.
Read More: Pakistani Military Band Performs in Russian Festival
The route of these buses remains undecided, following the approval of the Chief Minister of Punjab, Mian Muhammad Shahbaz Sharif, but the buses are likely to move between the Walled City and Gaddafi Stadium.
In the first phase of the project, the corporation is building terminals near Punjab Stadium and in the vicinity of the Fort Road Food Street, while additional terminals would be built following the introduction of more routes and increase in the number of buses.
Read More: KU Students Turn a Messy Spot Into a Beautiful Outdoor Studio
The TDCP has the support of the Walled City of Lahore Authority (WCLA), who, according to Ahmar Malik, would provide a Tonga Cart, Rickshaws and a special guide service at the Fort Road Food Street to further showcase the city's sights.
International standards of cities with the same double-decker service, including Dubai, London, and Budapest, were examined and will be further implemented in Lahore.
Read More: Pakistani-born Environmentalist Shoaib Sultan to be the next Oslo Mayor?
The buses can hold 67 passengers, and will come equipped with public address systems that will aid the tour guides in explaining the history of the city and the places of interest along the designated routes, while LED screens will be later installed to screen documentaries highlighting Lahore's art, culture, and historical heritage.