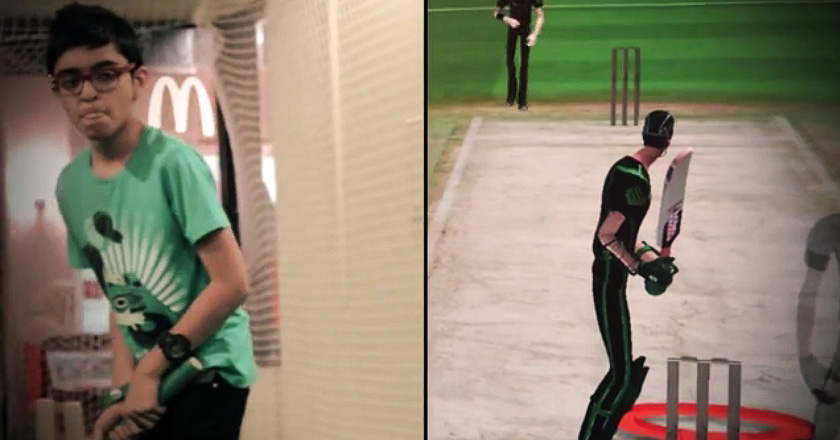 In a nation, where people eat, breathe and sleep cricket, it is no wonder that there is scope for a cricket video game which augments the real feeling of cricket as much as possible. Spotting the opportunity, two Pakistani entrepreneurs grabbed it with both hands and created Cover Drive, for die-hard cricket fans.
Anas Riasat and Ata Kirmani, the duo behind GameDotPlay, felt the need for a cricket video game that was better and more interactive than the usual ones that they claimed to be "boring and mundane".
"Existing cricket games for PCs and consoles take away the thrill and excitement of the sport."
To provide cricket fans a more hands-on experience, the duo came up with the idea of an augmented reality cricket game and created Cover Drive, for Kinect and Xbox 360, in just three months.
While they have bagged the status of being the first to have ever created such a game, the game itself is not without its flaws.
The game has certain limitations including the fact that it does not have a multiplayer option and the motion detection is rather poor, making the players win based more on luck rather than their cricket performances. For now, the game only allows one player to bat out an over at a time.
Riasat and Kirmani understand that there is definitely room for more refinement of technical aspects of the game, however, are restricted to make improvements as fast as possible due to lack of funds and time.
The duo tried selling the idea of the game to multinational companies when cricket fever was high during the World Cup 2015, but failed to do so as the subcontinent teams got knocked out of the tournament and fans got disheartened with the sport.
While the idea of the game lost its significance, the duo still managed to grab attention by displaying test versions at malls and got their company GameDotPlay accepted by the Microsoft Innovation Center for incubation.
In spite of that, the duo are failing to dedicate time to improving the game as they are bootstrapped for cash and cannot afford to lose their day jobs.
In an interview, Kirmani stated that they are actively looking for investors to fund their idea and would like to quit their jobs to dedicate all their time into the development of the first ever augmented reality cricket game.