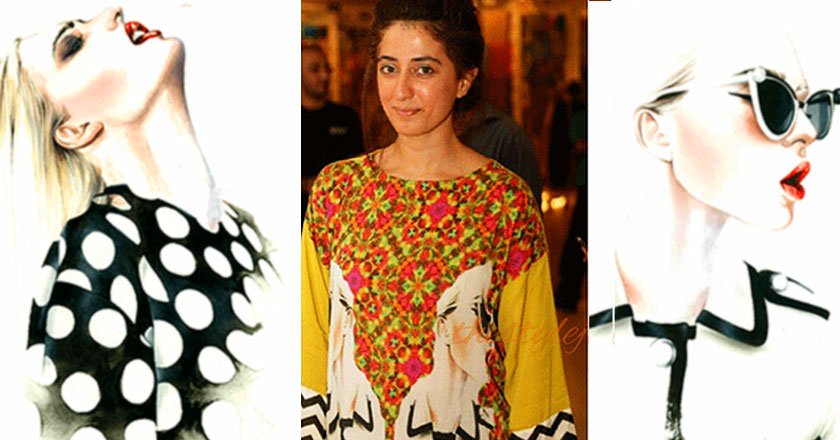 The history of plagiarism battles in the world of vogue has been long filled with shocking cases of big brands shamelessly stealing and blatantly ripping off designs without any due credit to the owner.
The most recent bootlegging case that has sparked an outrage in the fashion world is that of an emerging Pakistani designer, Nida Khurram.
Reportedly, Nida launched her new line of digital print clothing, summer collection at Pakistan Fashion Lounge at Dolmen Mall, Karachi. The local designer in a statement attributed her collection of a two-piece suit to the designer of London, Milan, and New York.
"I've been really inspired by fashion illustrations of London, Milan, and NYC-based artists. Their work has motivated me to bring the collection forward through digital prints."
While her patterns and designs received nods of excellence for her being classy and contemporary, nobody knew that the work was surely not her own.
Carbon-copied from the illustrations of a freelance Portuguese artist Antonio Soares, Nida apparently took the credit for the note-worthy designs without taking any permission from the foreign artist himself.
But the designer could not escape for long!
Within 24 hours time, Nida got caught in the act, stirring up a huge controversy on social media. The furious and offended Soares unleashed the copy cat's reality on his Facebook account as soon as he stumbled upon his illustrations on Khurram's designs.
Even the disclaimer on Soares Instagram account "copyright and license of my illustrations owned by me", did not stop Khurram to think twice before embezzling his images.
With her reputation tarnished, Nida Khurram respondent to the allegations of plagiarism on her Facebook account but the statement was later found to be deleted.
Probably, Nida believed that nobody in Pakistan will be able to discover that the designs she passed off as her own, actually belonged to a Portuguese owner.
However, her embarrassing case of plagiarism has dragged the nation's name in the mud.
Read how Twitterati responded to Nida Khurram's case of copying designs:
Didn't realize plagiarism was this rampant in the fashion industry. In the internet age, how did Nida Khurram not see this coming?

— Sundus Rasheed (@SundusRasheed) June 2, 2015
Antonio Soares calls out Pakistani designer Nida Khurram for copying his work https://t.co/aovQFAtWRn about time this happened

— Madiha Riaz (@madihariaz) June 2, 2015
Nida Khurram Steals like an artist! http://t.co/hK0cj3IRho

— Nudrrat Khawaja (@NudrratKhawaja) June 2, 2015
Too much of copy pasting-in #NidaKhurram latest digital print lawn collection. #AntonioSoares #FashionIllustrations pic.twitter.com/ynDhtM965X

— Sabina Ali (@SabinaAli01) June 2, 2015
No, I wasn't printing counterfeit dollar bills. It was a TRIBUTE TO AMERICA #nidakhurram

— bur Han Solo (@BurhanULhaq) June 2, 2015
Nida Khurram shd not be the only one to be blamed for copying the illustrations .There are many other designers who're 'inspired' #Pakistan

— Purple_Haze (@Ceraa_H) June 2, 2015