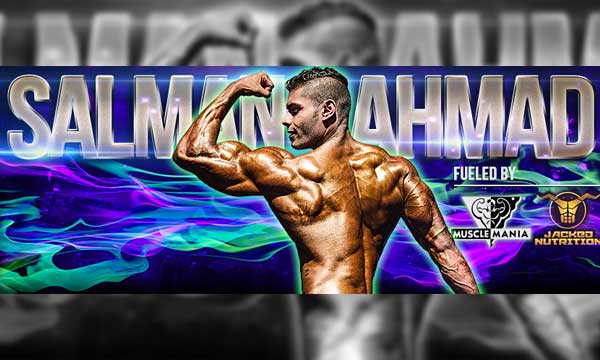 Making the nation proud, Pakistani bodybuilder, Salman Ahmed has become the first Pakistani to ever win a Gold Medal at the prestigious World Musclemania 2015 held in Los Angeles, USA. Ahmed, who was previously ignored by the Government of Pakistan, left behind recognized bodybuilders from around the world to win a Gold Medal.
In an official video posted on his Facebook page, Ahmed thanked his family and his fans for all the support and prayers:
[fb_embed_post href="https://www.facebook.com/salmanahmadofficial/videos/vb.510692615726549/784581795004295/?type=2&theater/" width="550″/]
[fb_embed_post href="https://www.facebook.com/salmanahmadofficial/photos/a.512123865583424.1073741829.510692615726549/784327555029719/?type=3&theater/" width="550″/]
A student of University of Central Punjab, Salman, 23, participated in Musclemania Universe Competition 2014 – the World's biggest bodybuilding competition held in Miami and secured the 2nd position.
He competed against 300 bodybuilders and succeeded in lifting the green flag on an international platform thus, becoming the first Pakistani to participate in the International Musclemania competition. 
This win was not a piece of cake for Salman; with limited financial support and no help from any government organization, Salman's jaw-dropping abs are the result of a constant and tiresome workout regimen.
From the intake of solid nutrition to maintaining a balanced diet for six months and working out twice daily for an entire year, Salman claims he gave the competition his best efforts and all his passion.
"I knew MM bodybuilders are always in shape," he explains. "Here in Pakistan, diet doesn't matter as much – it's all about the size on stage. But at MM, it's the complete body and super lean. Illusion shadows sheer size!" 
Weighing 175 lbs., the 5'8" bodybuilder, plans on competing in Muscle Mania World Las Vegas.
He was offered to work in the USA, but the patriotic soul inside him made him stay back and serve his country.
However, after constant efforts to make his talent recognized by the government or related agencies, he expressed his disappointment through a video shared on his Facebook page.
The 9 mins video depicts his unbridled frustration and anger towards the corrupt system, the government and the media of Pakistan.
Watch Salman's video here:
 "They didn't even bother wishing me luck for the competition, let alone support me through financial means."
Salman claims to have written 32 letters to be sponsored for the competition, which were insensitively ignored.
"I approached quite a few media agencies and informed them about my achievement to which they responded by saying "What do we do?" I was then asked to pay 30k for a 90 second lead and 40k for a two-minute lead. I was shocked!"
"Bodybuilding is an expensive sport which needs government assistance," expressed Salman. Sadly, his talent was not acknowledged nor was he praised for his global accomplishment.
Salman's harsh yet true words told the unsaid story and the sad state of our media who pays homage to the mighty and powerful only, he said: 
"The news media shows a newsflash if Imran Khan travels in a rickshaw to the next block or if Shahbaz Shariff's dog dies. We're winning shields in competitions like Mr. Universe and a Pakistani's picture is being published in an international magazine alongside other high achievers for the first time but there's no recognition or worth being given to this person."
Every country promotes and facilitates their sportsmen to boost their spirit. It is seen as their responsibility, but Salman begs to differ.
"Sportsmen all around the world are treated with respect and dignity. Governments provide constant support to their sportsmen and give them the place they deserve."
The History of Bodybuilding in Pakistan:
The history of bodybuilding is replete with stories of former national bodybuilders who have fallen into poverty due to lack of financial compensation for the sport.
One of the primary examples is Rifaqat Ali, a former Mr Lahore, Mr Asia, and national champion who now drives a rickshaw in the old city.
From hockey being our national sport and cricket being our favorite, bodybuilding is not given much importance even though there is never ending talent that is ready to be explored.
In August 1952, the Pakistan Amateur Bodybuilders Association was established with Mr. Justice M.A. Soofi as its first President.
The first-ever contest for the selection of Mr. Pakistan was carried out at the Burt Institute, Lahore in December 1952.
The sport never became mainstream as it was banned from being shown on national television during the Zia era due to the attire of the participants in the competition.
"The purpose of this video is to make it as viral as possible in order to make the officials realize how they're killing the motivation of the future stars of our country by not paying heed to the present ones."
However, until the sport is locally promoted and the sportsmen compensated according to their needs, our national hunks will remain trapped in dreary gyms and caved portals.