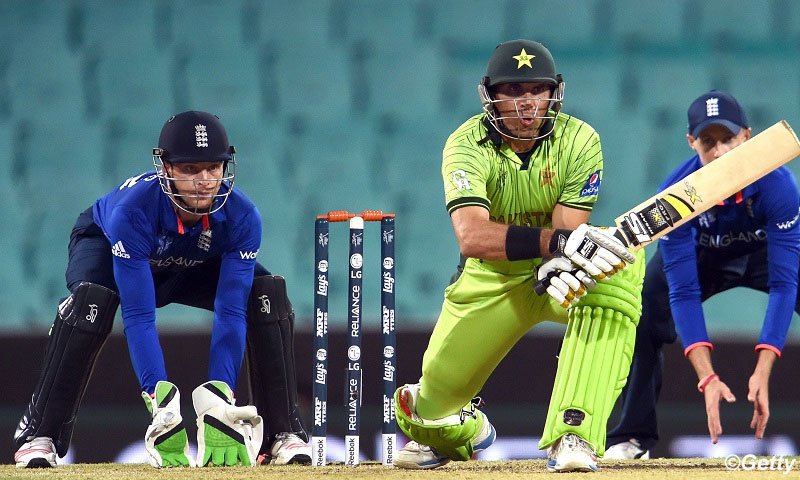 After beating England by 6 wickets in the first ODI, the men in green are all set to go head to head again at the Sheikh Zayed Stadium in Abu Dhabi, United Arab Emirates, in the second ODI against England today.
See the match details here: 
Date: Friday, November 13, 2015
Time: 3 p.m. local (11 a.m. GMT, 6 a.m. ET)
Venue: Sheikh Zayed Stadium, Abu Dhabi, UAE
Live Stream and TV Info: Sky Sports (UK), PTV (Pakistan), SuperSport (South Africa), Ten Sports (Bangladesh), NowTV (UK Streaming Service)
The morale of Pakistani camp is high after having won the test series that will give them psychological edge over their opponents.
See: Pakistan Vs England Ist ODI Match Highlights: Pak Won by 6 Wickets
However, currently ranked at number 8, Pakistan seeks improvement in ODI ranking to directly qualify for the ICC World Cup 2019 and despite their good performance in UAE in tests, green shirts have lost last eight out of ten ODI series they played here.
Stay tuned to see the match highlights on Brandsynario!
Latest Updates:
LATEST UPDATES:
England captain Eoin Morgan won the toss and decided to bat in the second day-night international against Pakistan in Abu Dhabi on Friday.
England remained unchanged from the first game which they lost by six wickets in the first game — also in Abu Dhbai — on Wednesday.
Pakistan made two changes as they bring in Iftikhar Ahmed and Mohammad Rizwaz for Bilal Asif and Younis Khan.
Younis retired from one-day cricket after the first match.
The 25-year-old Iftikhar is playing his first match for Pakistan.
England win by 95 runs #PAKvENG #DreamGreen

— PCB Official (@TheRealPCB) November 13, 2015
OUT! Mohammad Irfan (0) b Topley. Pakistan: 188 (45.5 ov). Live streaming https://t.co/s3nbpoblrp #PAKvENG #DreamGreen

— PCB Official (@TheRealPCB) November 13, 2015
OUT! Sarfraz Ahmed (64) c Buttler b Woakes. Pakistan: 181/9 (45 ov). Live streaming… https://t.co/GbfkDDxQ0R

— PCB Official (@TheRealPCB) November 13, 2015
OUT! Wahab Riaz (5) c Buttler b Willey. Pakistan: 163/8 (41.4 ov). Live streaming… https://t.co/HcFgIzMzlV

— PCB Official (@TheRealPCB) November 13, 2015
Pakistan: 152/7 (40 ov). Live streaming https://t.co/s3nbposWiX #PAKvENG #DreamGreen

— PCB Official (@TheRealPCB) November 13, 2015
OUT! Anwar Ali (23) c Woakes b Ali. Pakistan: 145/7 (38.5 ov). Live streaming… https://t.co/sgjnjdyjd8

— PCB Official (@TheRealPCB) November 13, 2015
Pakistan: 123/6 (35 ov). Live streaming https://t.co/s3nbpoblrp #PAKvENG #DreamGreen

— PCB Official (@TheRealPCB) November 13, 2015
Pakistan: 99/6 (31 ov). Live streaming https://t.co/s3nbposWiX #PAKvENG #DreamGreen — PCB Official (@TheRealPCB) November 13, 2015
OUT! Mohammad Rizwan (17) b Adil Rashid. Pakistan: 80/6 (27.4 ov). Live streaming… https://t.co/HwKifRlhQs

— PCB Official (@TheRealPCB) November 13, 2015
Pakistan: 72/5 (25 ov). Live streaming https://t.co/s3nbpoblrp #PAKvENG #DreamGreen — PCB Official (@TheRealPCB) November 13, 2015
Pakistan: 55/5 (20 ov). Live streaming https://t.co/s3nbposWiX #PAKvENG #DreamGreen

— PCB Official (@TheRealPCB) November 13, 2015
OUT! Azhar Ali (22) b Woakes. Pakistan: 50/5 (18.2 ov). Live streaming https://t.co/s3nbposWiX #PAKvENG #DreamGreen — PCB Official (@TheRealPCB) November 13, 2015
OUT! Shoaib Malik (13) c James Taylor b Woakes. Pakistan: 46/4 (17 ov). Live streaming… https://t.co/1iQgdCUjmz

— PCB Official (@TheRealPCB) November 13, 2015
OUT! Iftikhar Ahmed (5) c Willey b Woakes. Pakistan: 24/3 (11 ov). Live streaming… https://t.co/7qGIEgmtMl — PCB Official (@TheRealPCB) November 13, 2015
Pakistan: 19/2 (10 ov). Live streaming https://t.co/s3nbpoblrp #PAKvENG #DreamGreen

— PCB Official (@TheRealPCB) November 13, 2015
OUT! Mohammad Hafeez (0) c Buttler b Willey. Pakistan: 10/2 (4.4 ov). Live streaming… https://t.co/pPzJ51wyPP — PCB Official (@TheRealPCB) November 13, 2015
OUT! Babar Azam (4) lbw b Willey. Pakistan: 5/1 (2.1 ov). Live streaming https://t.co/s3nbpoblrp #PAKvENG #DreamGreen

— PCB Official (@TheRealPCB) November 13, 2015
England: 283/5 (50 ov). Live streaming https://t.co/s3nbpoblrp #PAKvENG #DreamGreen — PCB Official (@TheRealPCB) November 13, 2015
OUT! Eoin Morgan (29) c Babar Azam b Mohammad Irfan. England: 274/5 (48.5 ov). Live streaming… https://t.co/02GFZDPL83 — PCB Official (@TheRealPCB) November 13, 2015
OUT! Jos Buttler (11) b Wahab Riaz. England: 270/4 (47.5 ov). Live streaming… https://t.co/74sY9SBxYJ — PCB Official (@TheRealPCB) November 13, 2015
OUT! Joe Root (63) b Wahab Riaz. England: 256/3 (45.3 ov). Live streaming https://t.co/s3nbposWiX #PAKvENG #DreamGreen — PCB Official (@TheRealPCB) November 13, 2015
England: 227/2 (40 ov). Live streaming https://t.co/s3nbposWiX #PAKvENG #DreamGreen — PCB Official (@TheRealPCB) November 13, 2015
OUT! Alex Hales (109) st Sarfraz Ahmed b Iftikhar Ahmed. England: 216/2 (38.5 ov). Live streaming… https://t.co/W9snyEbSun — PCB Official (@TheRealPCB) November 13, 2015
England: 194/1 (35 ov). Live streaming https://t.co/s3nbpoblrp #PAKvENG #DreamGreen — PCB Official (@TheRealPCB) November 13, 2015
England: 165/1 (30 ov). Live streaming https://t.co/s3nbpoblrp #PAKvENG #DreamGreen — PCB Official (@TheRealPCB) November 13, 2015
England: 135/1 (25 ov). Live streaming https://t.co/s3nbposWiX #PAKvENG #DreamGreen — PCB Official (@TheRealPCB) November 13, 2015
England: 112/1 (20 ov). Live streaming https://t.co/s3nbposWiX #PAKvENG #DreamGreen — PCB Official (@TheRealPCB) November 13, 2015
England: 82/0 (15 ov). Live streaming https://t.co/s3nbpoblrp #PAKvENG #DreamGreen — PCB Official (@TheRealPCB) November 13, 2015
England: 18/0 (5 ov). Live streaming https://t.co/s3nbpoblrp #PAKvENG #DreamGreen — PCB Official (@TheRealPCB) November 13, 2015
Toss: England has won the toss and elected to bat first #PAKvENG #DreamGreen — PCB Official (@TheRealPCB) November 13, 2015
Teams:
Pakistan: Azhar Ali (capt), Mohammad Hafeez, Mohammad Rizwan, Iftikhar Ahmed, Shoaib Malik, Babar Azam, Sarfraz Ahmed, Anwar Ali, Yasir Shah, Wahab Riaz, Mohammad Irfan
England: Eoin Morgan (capt), Moeen Ali, Jos Buttler, Alex Hales, Adil Rashid, Joe Root, Jason Roy, James Taylor, Reece Topley, David Willey, Chris Woakes
Umpires: Chris Gaffaney (NZL) and Shozab Raza (PAK)
TV Umpire: Johan Cloete (RSA)
Match referee: Ranjan Madugalle (SRI)