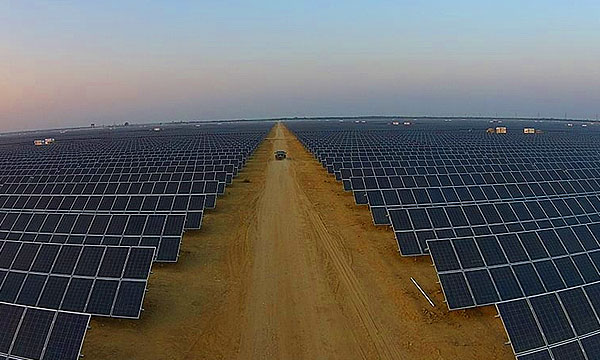 Over 2000 workers from Pakistan and China are working hard to build the world's largest solar park, Quaid-e-Azam Solar Park, in Cholistan Desert, Punjab, as part of the USD 46 billion China-Pakistan Economic Corridor (CPEC) energy project.
Having begun construction 3 months ago only, the Quaid-e-Azam Solar Park already boasts of 400,000 solar panels, constructed by Chinese company, Xinjiang SunOasis, over 200 hectares of desert land, capable of producing 100 MW of electricity.
Read more: Pakistan & Norway Sign MoU for 3 Solar Power Plants' Construction
Following the success of this small part of solar farm, another Chinese company Zonergy has already begun the next stage of construction, leading to the final 1,000 MW electricity plant, with 5.2 million photovoltaic cells, constructed by the year 2017. Once completed, the 1,000 MW solar park is expected to provide electricity to approximately 320,000 households.
The construction of a solar park in a desert in Pakistan has its obvious advantages of ease of construction on a flat surface and the availability of the major raw material, sunlight, 13 hours a day. The solar park is also expected to help reduce Pakistan's carbon footprint by reducing emissions by 90,750 tonnes a year, as quoted by Najam Shah, CEO of Quaid-e-Azam Solar Park.
Moreover, the construction and eventually, the running of this solar park would have the added advantage of creating employment for locals and attracting foreign investment.
Read more: BrighterLite Brings Affordable Solar Energy Home Systems in Pakistan
While a 1,000 MW solar park sounds like the ultimate solution for a country which is currently falling short on power supply demand, the success of such a huge solar park does seem like a farfetched idea.
For one, currently the largest solar power facility in the world provides only 500 MW of electricity. Compared to that, Pakistan's 1,000 MW aim seems like a risk, especially considering it is the country's first such project ever and the fact that a solar plant only delivers 20% of electricity of the installed capacity.
Furthermore, while solar facilities are built much faster as compared to thermo and hydro-power plants and require much less maintenance, they do not need to be kept "squeaky clean" at all times. For others, it might not be an issue but for a country which is falling short on water supplies too, it definitely is a dilemma to arrange one liter of water per solar panel just to clean it.
Even with the successful running of the solar park, other problems like the cost of solar energy and the recycling of solar panels every 25 years would definitely be a hindrance for a country like Pakistan.
Read more: Pakistan's Only Solar Powered House in Defence, Karachi
According to experts, a more practical solution would be to install additional smaller solar facilities in areas where electricity is actually needed rather than remote areas and complementing wind energy plants.
Take a look at some of the pictures of the Quaid-e-Azam Solar Power Park-QASP courtesy of their official website: