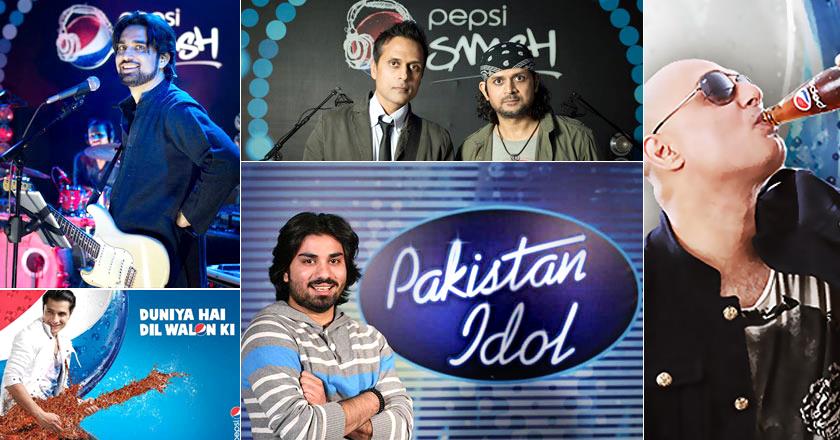 If we were to choose one brand that represents Pakistani music it would hands-down be Pepsi.
Pepsi is the voice of Pakistan's youth and the reason lies in the very fact that for decades, it has preserved the two things closest to the heart of every Pakistani – Good Music and Good Cricket.  
By supporting Pakistani artists, the cola brand has made sure that the country's music and its budding talent not only survives, but flourishes through the ages.
With songs like "Dil Dil Pakistan" and "Hum Hain Pakistani" that later became national anthems for every patriotic soul , Vital Signs, one of the biggest and most loved bands in Pakistan till date,  owe a big part of their success to Pepsi.
Two and a half decades ago, Vital Signs laid the foundation of Pakistani rock and pop music which has now translated into Pakistan's biggest music event to date – Pakistan Idol. The internationally acclaimed music reality show is perhaps the biggest initiative taken by the brand to uphold Pakistani musicians and artists.
The entire journey of Pakistan Idol saw many ups and downs. On one hand, there were legendary singers includingAbida Parveen, Sajjad Ali, Ali Zafar and the dynamic trio of Pakistan Idol's judges who stood by the show and thrilled the audience; on the other hand, there were thousands of voices competing for the title and millions of spectators who were waiting to meet their first idol.
Pepsi, the cola brand that took the Pakistani crowd by storm 35 years ago in 1979 continued its legacy by supporting Pakistan Idol from its initiation till its end and will continue to do so in the upcoming years.
It was also the first one to congratulate and support the newly made Idol, Zamad Baig through his first ever TVC. Very soon, he will be seen in his own music album, backed by Pepsi. 
Watch Zamad Baig in action for Pepsi here: 
Zamad, who hails from the city of Lahore and specializes in core sufi genre is a testimony to the fact that music born and bred in our own soil still has the power to touch all hearts.
Going down the memory lane, Pakistan's internationally acclaimed pop rock band, Strings too has been a project of Pepsi for their ICC World Cup 2003. Their song "Hai Koi Hum Jesa" reached sky-rocketing success and became a much-played track in every street cricket match in Pakistan.
Strings also became a part of Pepsi's ultimate music show, Pepsi Smash.
The famous band, Awaz also produced a song for ICC World Cup 1999, "Tu he Jeet Hai" promoted by Pepsi which was very popular back then.
Later after the band split and Haroon (Lead Singer) launched himself separately, his two evergreen singles, "Mehndi Ki Khushboo Say" and "Mehbooba" too had the brand's strong support. Though not about cricket these songs were loved by all. Watch the song here to relive your memories.
With the victory in ICC T20 Cup in 2009, cricket fever reached its zenith in Pakistan. The momentous ocassion is now remebered through  the song, "Hum Sai Hai Ye Zamana" by Call, another of Pepsi's many successful initiaitves.
To mark ICC T20 Cup 2012,yet another thriving band, Noori produced a song, "Dil Walon Khelo Tum" and like before, the song was promoted by none other than Pepsi.
Still fresh in our minds is the song "Dil Mange Abhi" by Ali Azmat and Ali Zafar which marks the most recent initiative by the brand. Beside being Pepsi's endorsers, the duo also played important roles during the journey of Pakistan Idol.
To sum it up in a few words, we can safely declare that had it not been for Pepsi, our music industry wouldn't have achieved what it has in the last twenty five years.