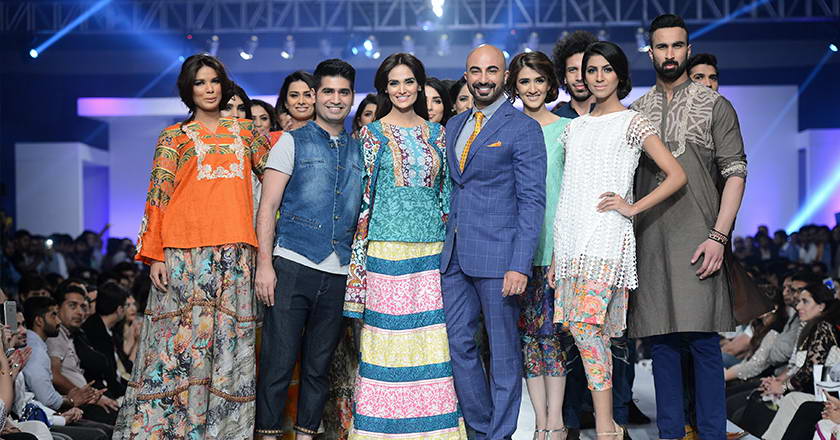 The third day of The Pakistan Fashion Design Council 2015 was a grand gala of fashion and glamor as some of the leading brands of Pakistan's fashion industry presented the best of their Summer/Spring collections.
The collection for Day 3 included a whole dedicated day of evening Voile shows with Gul Ahmed, Shubinak, Warda Prints, Alkaram Studio, Harmony and House of Ittehad.
Check out their collections below:
Gul Ahmed – A Flourishing Journey of Prints
Gul Ahmed's PFDC collection was titled 'A Flourishing Journey of Prints' and included cool and summery assortment of items, with diverse cuts and some new and truly unique designs. Inspired by Bohemian style, the collection was designed for the contemporary era.
Shubinak – 'Pakistan United
Taking inspiration from socio-environmental activism, Shubinak utilized pure Pakistani cotton, organic cotton fabrics and recycled cotton bags with Jacquards reforestation theme's patterns embedded within.
Warda Prints – Chromatic Ecstasy
Warda Prints' PFDC collection, was a brilliant mix of reds, tangerine oranges, canary yellows and aquatic blues. Rich in Romanesque antiquity, Oriental artifacts, and characteristic Persian Paisleys, the collection was inspired by eastern prints and embellishments, the fusion in this collection was of motifs transcending boundaries and cut lines that could be easily interpreted as contemporary chic & classical eastern drapery.
Alkaram Studio
Savoir Vivre'. Inspired by the traditional style and fused with modernity, 'Savoir Vivre' featured a blend of conversation prints with traditional ethnic and floral motifs based in a variety of fabrics ranging from lawn, chikan kari to jacquard. Renowned music personality Mustafa Zahid of Roxen fame walked the ramp as the brand's celebrity showstopper.
Harmony – 'Summer Rhythm'
The 'Summer Rhythm' collection was a mix of silks and chiffons with accents of gold sequins paired with black & white silk fabric. The well-balanced collection gave focus to individuality and serenity, for the confident, trend-setter woman of today. The collection featured outfits for both men and women with trends of flowy chiffon & silk skirts, short tops and straight cut skirts paired with black and white silk veils.
House of Ittehad – 'The Sumer Rouge'
The House of Ittehad who showcased a collection titled 'The Sumer Rouge' which had been designed by leading couturier HSY. Inspired by a variety of contemporary cultures with a mix of various ethnicities from all around the globe, the collection featured floral and geometric prints with contemporary and stylish cuts, merged with the combination of conventional and unconventional embellishments. Based in bright colors with a little blend of pastels and earthy tones, House of Ittehad also showcased their menswear line, I-Man.