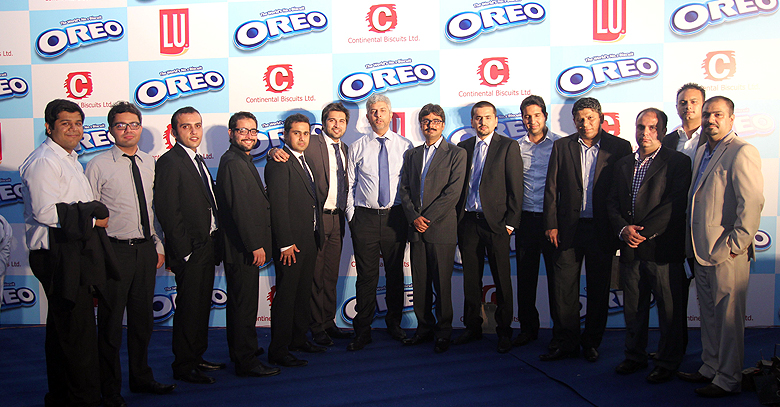 After the grand launch of Oreo in Pakistan at Carlton hotel, Karachi; Continental Biscuits Limited (CBL) and Mondelez International (previously Kraft Foods) look forward to give a tough competition to established biscuit brands in Pakistan.
The Television commercial for Oreo will be based on the same positioning and tagline OREO has maintained for the longest while. The famous 'Twist-Lick-Dunk' catch phrase would soon be seen on every major channel of advertisement.
Inspired by a research conducted by Four Corners Group, by the name 'Kitna-Love-Index', a survey about mothers' view of their child's relationship with their father, OREO's marketing efforts will reflect a rather novel and seldom emphasized aspect – the bond between a father and his child.
Kitna Love Index also announced that as much as 85% of all mother respondents believed that 'a father is always an ideal for their children, for the child will always look up to him and learn from him the meanings of the emotions like love, respect and trust'. Oreo plans to utilize these findings to make its own distinct mark in Pakistan.
CBL had to go an extra mile to assure Mondelez lets Pakistan produce their ace-brand, OREO. Therefore CBL, with an estimated investment of PKR 1.1 billion (USD 11 million), has equipped the OREO production house in Sukkhur, with state-of-the-art machinery. The factory as an automated production line would ensure the same quality of taste, that Oreo is renowned worldwide. The line can produce as many as 4 million Oreos per day.
Ian Buchan, Mondelez International General Manager for Middle East and Africa, claimed the Pakistani made Oreos taste better than the ones made in China or India. In his address to the press on OREO's media launch on Tuesday in Avari Towers, Buchan also indicated their intentions of exporting the OREOs made in Pakistan.
Introductory offering prices for Oreo is PKR 10 for the 3-biscuit packet, PKR 20 for the 6 biscuit pack and PKR 40 for a 12 Oreo packet.
Oreo is the world's favorite biscuits, according to an estimate around 625 million Oreos are consumed monthly (this implies a whopping 33 million Oreos consumed daily). 'Continental biscuits Ltd', which has been in collaboration with Mondelez for the last six years, has invested a colossal amount to bring the 101 year old American giant to Pakistan.
CBL has previously brought, Prince, Tiger and modified Candi for the Pakistani consumers. However Oreo remains as the major investment from the company, of around 11 million dollars already, that is indeed one of the most preferred biscuit in the world.