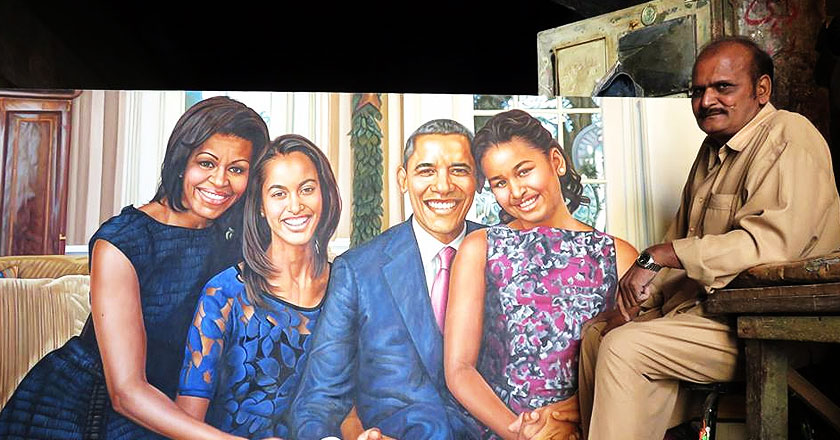 Hailing from the town of Lyari, Parvez Bhatti – an immensely talented individual, who is an artist and a painter.
The painter is the man who has created this picture of United States of President Obama and his family – yet more proof of how talented Pakistanis really are.
This painting was cited and the painter was interviewed by the photoblog Facebook page by the name of Humans of Lyari, The page, HoL is a page which aims to recognize the unappreciated and unrecognized talent of Lyari city. Where the people of Lyari are going through insufferable times, HoL is providing them a platform to showcase their hidden talents and come out of the slums of life.
While he has created movie posters for cinemas and worked for art galleries behind the scenes, this is the first time he has received this level of recognition.
The painter, Parvez Bhatti, in a set of questions, stated that, "This is one of my best paintings so far in which I have drawn family portrait of American President Obama. I really want to gift this painting to him."
His picture and statements have gone viral on social media. Not only are Pakistanis, but people from the rest of he world even have shared his photo in an attempt to get attention from the President and Michelle Obama. People find his way of wanting to gift the painting to Obama very simplistic and endearing.
This naïve statement may be the reason why he now has countless fans on social media, who are attempting to promote his painting.
The man has been painting since he was a child. He enthusiastically said that, "It has been 40 years since I have been working as a painter. I used to paint movie posters for cinemas and I also used to take orders for different art galleries".
Let's see if the support garnered can actually lead the painting to be noticed by Obama or not.
The trend for photo blogging pictures of people from the city was started by the page, Humans of New York. This trend has migrated to Pakistan and other countries as well, and now there are pages which recognize uniqueness and talent in every place there is like institutions, cities, localities in our country as well. The page Humans of Karachi has trended globally as well.
READ MORE: Humans of Karachi Features Globally 
Take a look at the Facebook post of the page:
Humans of Lyari introduced the painter and his work has received thousands of likes and shares with people from across the globe not only appreciating the work but also asking for details to provide him business opportunities.