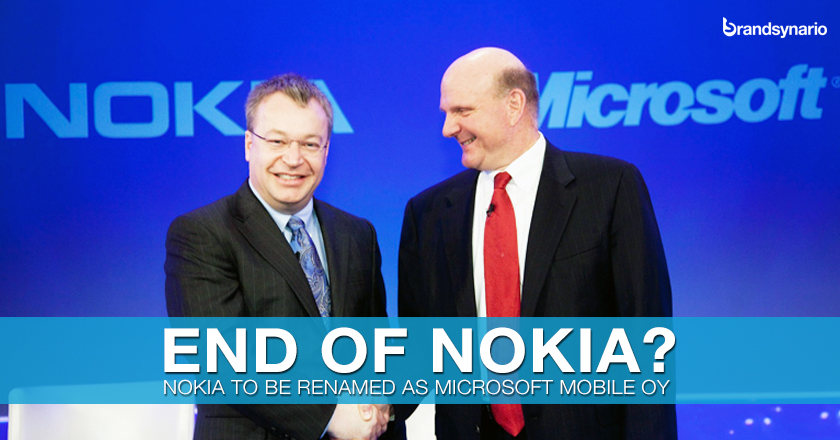 A leaked letter from the Nokia HQ, confirms the lingering rumor of Microsoft's plans to rename Nokia Mobiles as Microsoft Mobile.
The letter, intended includes these words:
"Please note that upon the close of the transaction between Microsoft and Nokia, the name of Nokia Corporation/Nokia Oyj will change to Microsoft Mobile Oy. Microsoft Mobile Oy is the legal entity name that should be used for VAT IDs and for the issuance of invoices."
Nokia sent this letter to its official vendors in Finland, notifying them of the change in company's official name that is yet to take place officially. The information however, got leaked.
It is worth mentioning here that Nokia is known as Nokia OYJ in its home Finland, where OYJ is the local abbreviation for 'Public Stock Company'. Whereas OY implies, 'corporation', thus Microsoft's planned name, 'Microsoft OY.'
Both Nokia and Microsoft had confirmed earlier that the mega-deal between the two will conclude by the end of April.
However, renaming 'Nokia' as 'Microsoft Mobile' does not actually imply the end of Nokia. What it actually implies is that Nokia's cellphone division, including its teams, will now work under Microsoft's name.
Essentially, Microsoft bought the rights to use Nokia's Lumia and Asha brand names, as its own. Nokia has also agreed on not making any smartphone or indulge with a phone using brand before the end of 2015.
However, Nokia's network equipment business and Here maps will continue working as they have been, and will continue being called Nokia.
Microsoft bought the license to use the Nokia brand name for 10 years as part of its $7.2 billion deal, made early this year.
Thus it can be expected that the name 'Nokia' will be replaced by 'Microsoft Mobile' in the coming days in Finland first only to be followed by other countries soon. Not much however will change for Nokia's business partners in the immediate future.