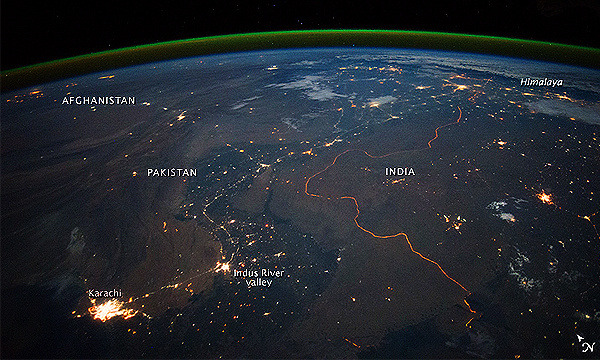 NASA Earth Observatory has published a space image on their website which features the India-Pakistan border at night. A truly breath-taking shot which depicts one of the few places on Earth where the international border can be seen glowing from the skyline at night.
Related: Kepler 452b: Earth-Like Planet Discovered by NASA
Take a look:
The city of lights, Karachi can also be seen glowing like a giant cluster of beams beside Arabian Sea which is dense in darkness.
This photograph was captured on September 23rd, 2015 using a Nikon D4 Digital Camera.
There are more photographs of the border zone which show Lahore as a city from the night-time, as well as a daytime view of the Indus Valley
Read More: Pakistani Student Wins Second Prize in NASA Contest 2015