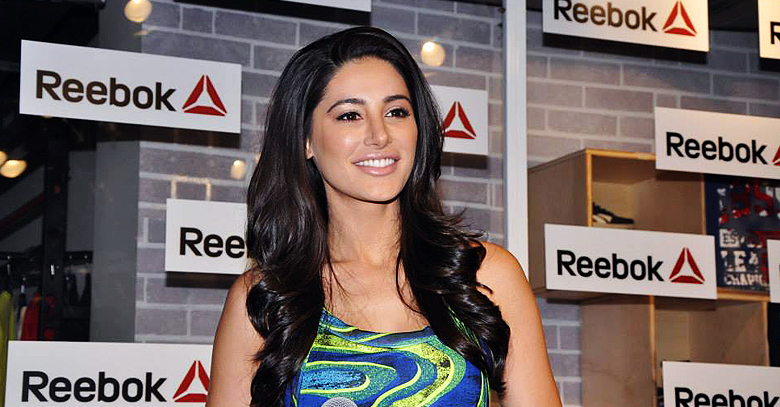 Nargis Fakhri who made her debut with Bollywood's Rockstar 'Ranbir Kapoor' back in 2011, has been roped in by International sports brand Reebok as their new fitness brand ambassador. 
Reebok has launched its all new category for women named, 'Studio' for which the sizzling Pakistani born American actress is hired as the cover face, or to be more precise, cover-figure.
Reebok is one of the few fitness brands who have pushed women brand ambassadors successfully.  This marketing strategy is rational as 35% of Reebok's loyal customers are women under 30.
Commenting on the association, Adidas Group India Managing Director Erick Haskell said: "Reebok is committed to making fitness aspirational and fun and Nargis Fakhri is the perfect embodiment of this. We are excited to partner with her and together take our brand proposition to the next level."
"Our studio category comprising yoga, dance and aerobics apparel will cater to women customers who are largely underserved in the fitness regime. This is a growing category. We are focusing on it in order to drive growth and to target 40 per cent sales from here," Erick Haskell, Managing Director, Adidas Group India, said while inaugurating Reebok's new store launch at Select Citywalk shopping mall in Delhi recently.
Reebok plans to open 100 new stores by 2014 in India with Fit Hub concept. In addition to this 400 existing stores will be refurbished to accomodate Fit Hub concept. Reebok's Fit Hub concept offers exercise and training products besides tips and information on fitness events. This concept was first initiated in 2011.
Reebok Studio's brand personality reflects a dedication to making fitness ambitious and fun; this is where Nargis Fakhri comes in as the perfect epitome for the brand. The sensual, stimulating and appealing Nargis has a contrasting perky avatar that compliments her form just as much.
The German brand is all set to showcase the striking beauty's dancing and fitness skills. Reebok's activation has been initiated by their management Agency, CAA KWAN.
Reebok has previously casted many Bollywood and other notable Indian celebrities as their brand ambassadors which include MS Dhoni, Gautam Gambhir, Unmukt Chand, hockey players Sandeep Singh and Sardar Singh, fitness trainers Piyush Pandey, Dheepesh Bhatt and Bollywood actor John Abraham.