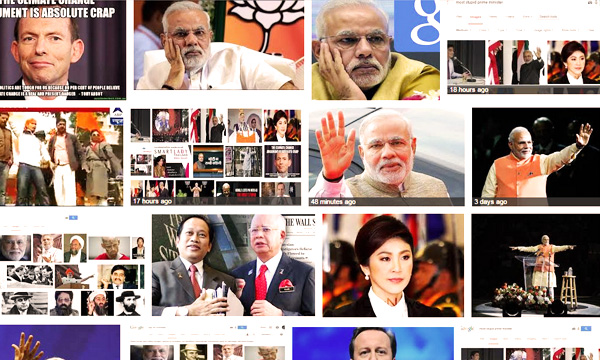 A month ago, Google apologized to Prime Minister Narendra Modi on showing his name when searched for 'Top 10 criminals in the world'. We thought this was the end of the story when something similar happened again on Thursday. This time Google shows Modi when searched for 'World's Most Stupid Prime Minister'.
Modi's image appeared multiple times than any other prime minister on searching for 'world's most stupid prime ministers'.
The list also contained the name of British Prime Minister David Cameron, Australian Prime Minister Tony Abbott and Lee Kuan Yew- the first prime minister of Singapore.
Read more: PM Narendra Modi's International Yoga Day Backed by 50 Countries
Undeniably, Google is one of the biggest sources of information of this age. When Google says we listen, what Google says we believe, at least most of us do! No wonder the internet was on fire in June when Modi was shown amongst the Top 10 criminals of the world along with Dawood Ibrahim and Al Capone.
This was followed by huge opposition from Modi's fans who demanded Google to remove the pictures and apologize which the company did.
The image went viral on social media and on Twitter, the hashtag #top10criminal also became trending worldwide. Although Google had apologized but the Modi's image was still showing up on searching for 'top 10 criminals'.
Also see: Indian PM Modi Coming to Pakistan in 2016?
"These results trouble us and are not reflective of the opinions of Google. Sometimes, the way images are described on the internet can yield surprising results to specific queries. We apologize for any confusion or misunderstanding this has caused. We're continually working to improve our algorithms to prevent unexpected results like this." said Google.
It further clarified that the result to the query "top 10 criminals in India" was due to a British daily which had an image of Modi and erroneous metadata and the image search results were drawn from multiple news articles with images of Modi and his statements with regard to politicians with a criminal background.
As the words, 'Modi' and 'criminal' occurred so closely it led to that particular image turning up.
Read more: Modi's Kurta Printed with His Own Name: Style Statement or Narcissism
But what went wrong this time?
Similar to the last time, the words 'Prime Minister' and 'stupid' from an article on Reuters titled 'Why work with India's new leader? It's the economy, stupid' were so close that it generated this result when searched 'Stupid Prime Minster'.