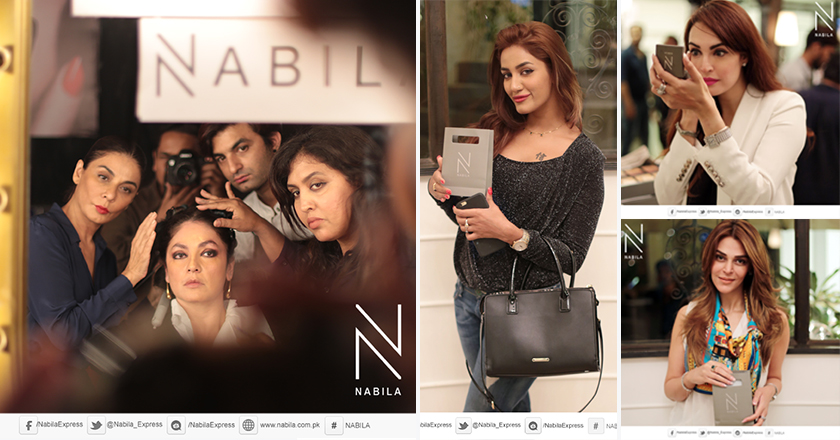 Sky literally is the limit for Nabila.
From fashion weeks to decking up brides for their big day, from training to starting her own retail brand, Nabila has actually done it all.
Nabila has now hopped on to the No Makeup trend for this season and launched her own NO Make-up palette.Inspired from her own go-to customized makeup palette, Nabila's NO Make-up palette features a blush, a lip color, a concealer, a blender and a powder with puff. 
[fb_embed_post href="https://www.facebook.com/NabilaExpress/videos/vb.264078468648/10152952452973649/?type=1&theater/" width="550″/]
The makeup palette gives the ultimate NO Make-up look in less than a minute. What's more amazing is that Nabila has launched 5 versions of the palette for a variety of Pakistani skin tones.
As Nabila says, "all you have to do is identify your skin tone", the rest of the makeup is all customized to suit you.
A small drawback to the amazing palette, receiving rave reviews already, is the price. The NO Make-up palette is priced at a whooping PKR 6,500, a price not affordable by many.
However, Nabila justifies it by claiming that you get 5 products in one and the palette will last you months. Moreover, the makeup is all made in Europe with Pakistani skin type especially kept in mind.
While Nabila's work speaks for itself, she did feel the need to make an appearance at talk shows, like those ofMubashir Luqman and Aamir Liaquat.
She believes that while her work at fashion weeks and on magazine models caters to the high-end clientele, there is a need to receive exposure at the other end of the market, who regularly view such talk shows.
Nabila is currently in Dubai for Hum TV Awards and her work can next be seen at the PFDC Sunsilk Fashion Week, Lahore.
Check out the pictures of the ultra successful launch of the NO Make-up Palette last weekend at NPRo: