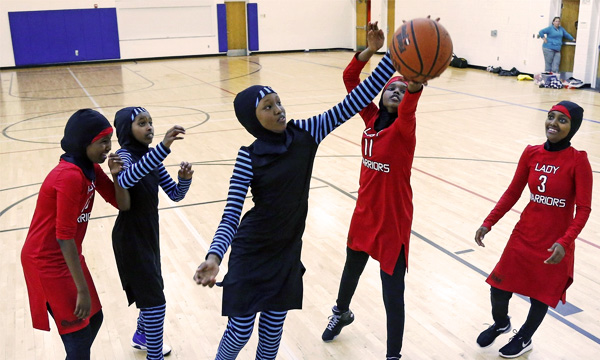 After struggling to play sports in long skirts and hijabs, a group of female Muslim basketball players took it into their own hands to create modest athletic wear.
Muslim girls know the real struggle of finding stylish conservative clothing. 'Lady Warriors' players encountered issues like tripping on skirts and stopping a game to fix a fallen hijab.
Watch the video below:
With help from the University Of Minnesota College Of Design, the Tucker Center for Research on Girls & Women in Sport, coaches and community members, the girls were able to create the one of a kind uniform and then debut the outfits at a local fashion show.
The uniforms, including one for basketball and one for all sports, are made of bright breathable fabrics, leggings instead of skirts, knee-length tunics, and hijabs with velcro so that the headscarves stay in place.
"I actually focus on basketball instead of our scarf," Zubeda Chaffe, a basketball player on the team, says in the video.
Have something to add to this story? Share it in the comments below.