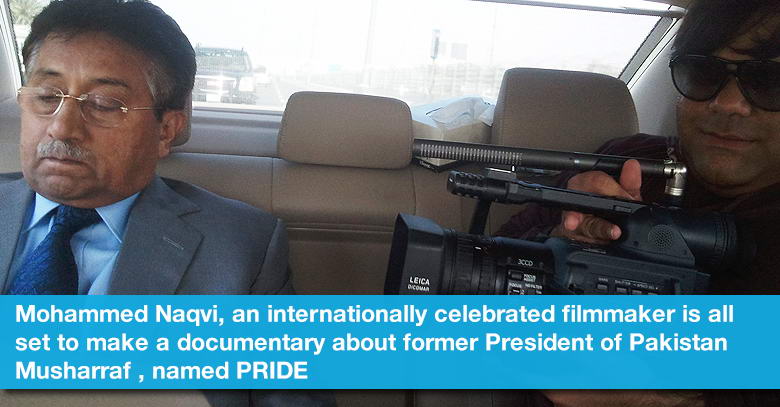 Mohammed Naqvi is an internationally celebrated filmmaker whose work has won over twenty-five prestigious awards and honours, and whose films have been showcased in film festivals including Toronto, Tribeca, Berlin, IDFA, Full Frame and AFI and venues including the Museum of Modern Art and the United Nations in New York.
Background
In 2003, Naqvi produced and directed TERROR'S CHILDREN (Discovery-Times Channel), a portrayal of young Afghan refugees living in post 9/11 Pakistan, which won the Overseas Press Club Award: The Carl Spielvogel Award and the South Asian Journalist Award.
In 2007, Naqvi wrote, produced and directed SHAME (Paramount/Showtime), a hard-hitting documentary chronicling the life of Mukhtaran Mai, Pakistani human rights activist, which won several awards including a Special Emmy Award, the Amnesty International Durban Human Rights Award, and the Women in Leadership award at the Full Frame Documentary Film Festival.
Naqvi's current projects include feature length documentaries TWO CHILDREN OF THE RED MOSQUE (a Tribeca All Access participant 2012 and Ford Foundation, CAAM and Gucci Film Fund grantee) and PRIDE, in co-production with Impact Partners (Hot Docs Forum 2011 and IFP participant 2012).
Naqvi grew up in Karachi, Pakistan prior to leaving for university in the United States. After completing his Bachelor of Arts degree from the University of Pennsylvania in 2001, Naqvi founded B.L.A.H Productions, an off-Broadway theatre company in New York, for which he produced, directed and acted in a number of plays.
Brandsynario got the opportunity to have a one on one conversation with Mr. Naqvi.
Question 1: You won an Emmy for Shame, a documentary on Mukhtaran Mai. How has that boosted your career?
Naqvi: On a personal level, winning the Television Academy Honor in 2008, the special Emmy for which I was selected was a milestone. It is a special Emmy given to films that engage viewers and raise human consciousness. Only nine of these awards are given annually and I was in the company of television legends; these included: Christian Amanpour, David E Kelley, Oprah Winfrey, and James Gandolfini.
Professionally, I was fortunate enough to have won other awards and been commissioned by studios and channels prior. I can't say that there was much of a difference to be honest in getting more films commissioned. Ultimately, It was a nice feather in my cap and a professional validation.
Question 2: What is your inspiration for choosing your topics?
Naqvi: Every time I finish a film- I say, "This is the last time I make a film in Pakistan- never again! The next one will be in Hawaii- or some other resort area and it will be about dolphins" I of course, eat my words a few months later, and find myself on top of some mountain in North Pakistan running after a terrorist. At the risk of sounding cliché, the stories I end up making pick me.
Sure a cursory analysis would say I choose films which deal with themes that are socio-political, human rights-oriented in nature -but I feel I choose to portray characters that are in some way in a crisis, or lost- their narrative journeys are about finding themselves. Ultimately, my films are about my own journey of self-discovery just as much as they are about expressing human beauty or truth in the most impossible and unexpected of places.
Question 3: What other projects are you working on?
Naqvi: I have two other feature length documentaries that I am currently making. "Two Children Of The Red Mosque" (a Tribeca All Access grantee 2012, Ford Foundation grantee, Gucci grantee, Centre of Asian American Media grantee) and PRIDE, about former President of Pakistan Musharraf (Hot Docs Forum 2011, IFP film week 2012). In addition, I am in the writing stages of my next two feature fiction films and working on various multi-platform ventures in video games, children's programming, and lifestyle programming.
Question 4: How can documentary filmmakers earn revenues internationally?
Naqvi: My own experience is not just limited to world of documentaries; you have to expand your scope within the non-fiction arena, which includes reality television, web-tv series, and lifestyle series to keep yourself sustainable. In addition, I also produce feature films and work in scripted content.
Speaking specifically in documentaries though there are a variety of ways to recoup investment. There are the traditional ancillary windows for distribution, which include theatrical, pay tv, international tv licensing, DVD & home video, educational markets, and special screening tours. Additionally, especially over the last five years, the advent of web media is really changing the landscape of film distribution so online libraries such as Itunes, Amazon, Netflix to name a few, are also revenue generators that docs can pursue.
Question 5: What avenues are there for promoting documentaries, internationally?
Naqvi: There isn't an exact science and there are a multitude of factors that influence the promotions.
First and foremost, documentaries themselves are divided into a variety of genres i.e a made of tv documentary, documentary series, feature documentaries, documentary shorts, news documentary, historical documentary, current events etc.
Your genre will dictate the promotional steps you take and what distribution avenue you pursue. I mostly work in feature documentaries so there is a limited theatrical release followed by the usual screenings and broadcast windows.
In this realm, its imperative to launch at a major film festival months beyond its commercial release- venues such as Sundance, Toronto, Tribeca, Berlin, Cannes. Furthermore, you being building an audience even before you finish the film by engaging in social media, releasing production stills, releasing small trailers, status updates, and promos of the film- this way you organically begin manufacturing your own audience.
You also end up partnering with other organizations, NGOs, private groups, cultural organizations that are a complimentary fit to your documentary- have an overlap of the themes you explore in the film. These partner organizations immensely help in the promotional process as they arrange special screenings and further pass on info about your film to their own audiences through a grassroots approach.
Question 6: How do censor policies in Pakistan affect documentary film making and showcasing?
Naqvi: Pakistan's film industry is in its infancy, so the documentary film market here is almost non-existent. Funding is non-existant so most of us have to look abroad to get sponsorships.
Many local filmmakers will agree though, and it is a shame- most of our work is rarely shown here. Outside of our local film festival, my work has never shown here except for a 20 min severely edited version of one of my films on tv. The topics I tend to explore with my work are not easily digestible by many local audiences.
A rallying cry for many local audiences and media regulators here is – "Why are you washing our dirty laundry in public!", "Why do you always have to show this side of Pakistan, why not make a film about our local fashions or beautiful mountains" and my favorite "You obviously work for the CIA", or something equally ridiculous. It is this attitude and state of denial that is pervasive throughout Pakistan, and it inhibits a lot of quality work from ever being shown here.
I personally feel that I have never shamed Pakistan- if anything I have celebrated its people and its resilience, which is truly astounding given the socio-political climate of Pakistan.
Having said that, some of my work's biggest supporters and its inspiration are Pakistanis as well !
Question 7: What needs to be done to put them at par with international facilities?
Naqvi: Realize that there is a world beyond Pakistan and to make film as a financially viable asset you have to think globally. Why should we have top of the art facilities when the content we make is not able to sustain costs of those facilities. It is a fallacy to approach film from a pure technological standpoint – technology is only a tool to achieve the core goal of filmmaking: which is to tell a great story.
This means we should concentrate on story structure, writing, proper direction, and acting- relying purely on images is a great way to make a beautiful looking flop with an insipid plot line. Also, drop the misplaced sense of entitlement that comes with working in film in Pakistan- its corrosive (and frankly delusional) and ultimately won't help you grow in your career.
If one can get this down- facilities and technological advancements are secondary and will come on their own accord.