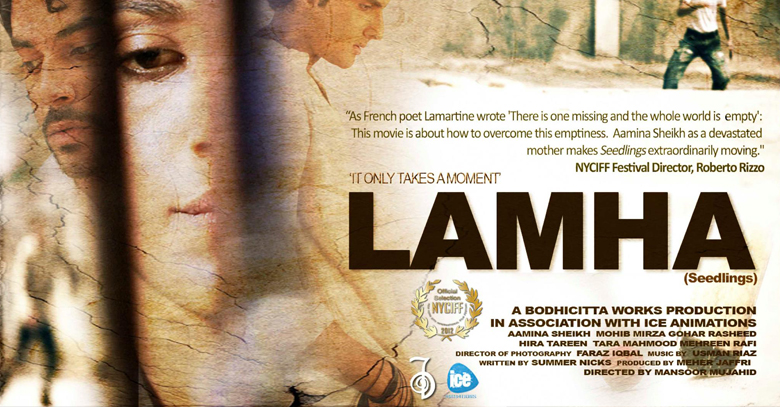 By Marium Ashfaq
Are we ready for a journey to self-discovery? Yes, apparently, this is what the multiple award-winning film is all about. According to press release, the movie will release in Karachi by The Platform, at the Atrium Cinemas on September 20.
The movie written by Summer Nicks and produced by Meher Jaffry promises to take its viewers on a self-exploratory expedition, where a moment (lamha) can be eternal in one's life.
The star cast of the movie includes Aamina Sheikh, Mohib Mirza, and Gohar Rasheed.
'Lamha' has been waiting for a local theatrical release since 2012. However, The Platform came to the rescue and took charge of the distribution and exhibition as they wish to 'promote new filmmakers who are making a mark in the international market'.
According to the director, Mansoor Mujahid, the film explores the 'little things' in life which we tend to miss in our daily hustle bustle. There is no extravagant plot with unpredictable twists, and this is exactly what makes it stand out among the clichés of the Pakistani cinema.
Lamha is a simple movie which depicts the journey of a simple couple – Aamina and Mohib – who lose their only child and then have to live with the uncertainty of it all until they cope with it…or not.
Moreover, the film has already won the People's Choice Best Feature Film Award, at the New York City International Film Festival along with Aamina Sheikh named the Best Actress in a leading role. Furthermore, it has been travelling overseas including the South Asian Film Festival, as well as the Delhi International Film Festival 2012.
Unfortunately, the film took so long to release in its own country due to the lack of sponsors. Nevertheless, with the release of Lamha, we can surely look forward to seeing the Pakistani reaction towards the film that has globally stirred hearts already!