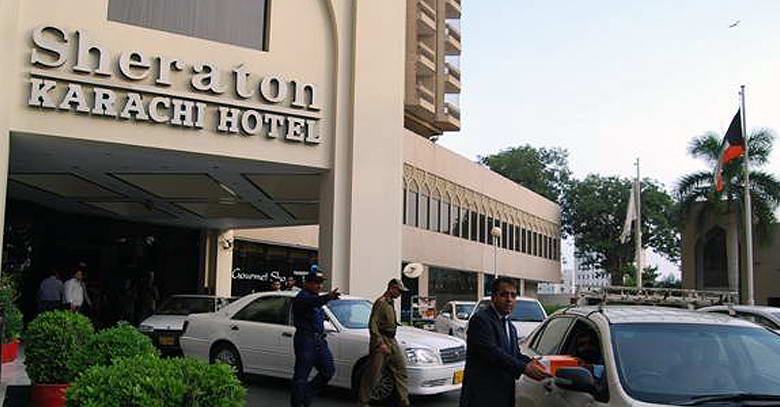 The multinational chain Sheraton Hotels and Resorts has announced to discontinue its business in Karachi this year. The news comes as a disappointment, not only for every Karachi-ite but also for all the other international businesses in Pakistan. 
This would conclude Sheraton's 31 years of business in Karachi.
The splendid structure of the hotel, which speculators till date call an architectural ingenuity, is now being considered by Swiss business tycoon Mövenpick, for the start of their resort and hotel business in the city.
Sheraton Hotels and Resorts is the largest and second oldest brand of Starwood Hotels and Resorts. Sheraton Hotel Karachi is owned by Arabian Sea Enterprise, who announced his decision of not renewing the contract once it expires late this year.
Movenpick Hotels and resorts, the new caretakers of the property, are not any less renowned themselves. With over 80 Hotels in 29 countries, Movenpick is a well-established name in upscale hotel management.
"Mövenpick Hotels and Resorts have finalised a management agreement with Kuwait Investment Authority (KIA), the owner of the hotel, to operate the property from January 1, 2014," Mr. Toufic Tamim, Vice President Sales and Marketing – Middle East and South Asia of Mövenpick Hotels and Resorts confirmed the news, according to news reports.
The Swiss company has always had a strong expansion strategy in Asia. Its interest in Pakistan can prove to be just the kind of foreign business involvement; the government of Pakistan so dearly craves.
The hotel will be renamed as Movenpick Hotel Karachi. Officials also confirmed that some major renovations in the property will take place while the new management hopes to keep as many operational staff as possible.
Sheraton Karachi currently employs more than 600 people and accommodates 407 rooms in a total of 16,487 square yards.