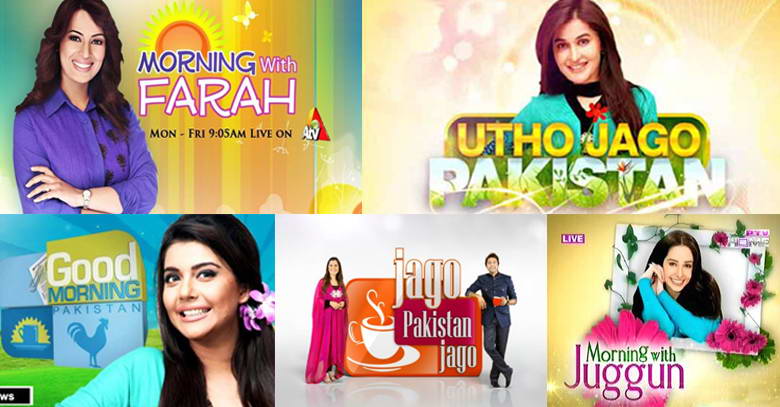 By Momina Khan
All of us are aware of the morning show culture, which has gone viral Pakistan. As soon as the clock ticks 9, the entire nation, or mainly the housewives, tune into their favorite morning show. Breakfast television lifestyle, inspired by the west, emerged in Pakistan long time ago.
The Origin
This trend gained popularity when Nadia Khan, a fresh and vibrant personality, hosted her first morning show on Geo Tv. In a very short span of time, Khan an instant hit, managed to keep the broadcast in vogue for many years.
Demand for similar morning shows surged due to the rapid rise in private entertainment and news channels. Surprisingly, Khan's success also doubled the zeal in bringing out more morning shows.
But unfortunately the growing demand was not dealt with sensibly and low quality shows were produced by some private channels. This concession on quality has led to a chain of poor quality telecasts that touch a new low every day in order to capture attention.
One of the best morning shows of all times was when Chacha ji (Mustansir Hussain Tarrar) along with Qurattulain Haider would conduct his show on PTV. He called himself the cha cha jee (paternal uncle) of all Pakistani children and soon became known by this title.
Best rated show
Morning show ratings are vulnerable as they are based on the feedback of very emotional viewers and can drop with a bang or shoot up in no time. Private channels fix their content that needs dire changes, depending on the response given by the viewers.
'Morning with Juggun' aired on PTV saw the biggest growth among the morning shows as it has garnered 3.2 rating although it is a relatively new show. But the fact that it runs on terrestrial channel, increases its reach.
According to the current morning show ratings during Sept-Oct, 'Morning with Farah' on Atv with 2.4 ratings, 'Utho Jago Pakistan' aired on Geo TV with Shaista Wahidi with 1.4 ratings, 'Jago Pakistan Jago' on Hum TV by Fahad Mustafa with 0.4 ratings, 'and 'Good Morning Pakistan' on ARY with Nida Yasir with 1.2 ratings are the popular names in every household.
On the flip side, 'Morning with Saahir' on A-Plus and 'Muskaraati Morning' on TV One are right at the bottom of the chart.
It was around this time last year that the Maya Khan show on Samaa was bottomed out and the host later fired for the notoriety it spread that angered the viewers. According to the sources, her show, called "Subah sawaray Maya kay sath", was not one of the highest-rated morning shows in Pakistan.
The TRPs of this show had dropped vastly due to other competing females in the same line of business. For instance Shaista Wahidi of "Utho Jago Pakistan" and Nida Yasir of "ARY" were much more popular among the viewers than Maya Khan.
The show Subha Saveray Sama Ke Saath is now hosted by the talented Sanam Baloch and is one of the few popular news programs among the masses that are aired early morning. The 'Maya Khan show 'on Express News has the highest number of ratings.
In the news category, 'Subah-e-nau' aired on PTV is last in the rankings as it is a state-owned channel and their focus is on news and the host is bound to follow instructions that help them maintain a certain level of decency.
The Current Trends
Long gone are the days when morning shows played a vital role in moulding the personality of Pakistani women and broaden their thinking horizons.
The current lot with bride-like hosts thanking there very many designers is anything but a tool to shape society; rather they are 'de-shaping' minds making them shallow and superficial.
They make the audience dream of a lifestyle filled with eternal bliss, increasing the disparity amongst the masses. A large portion of audience falls prey to the shiny world of glamour and are seen clapping along a loud song early in the morning.
There is more than what meets the eye. These shows have become a stage for designers to exhibit their clothes and the makeup artists to gain more publicity.
The agencies spend in millions to launch or to advertise their products on these so called 'morning shows' as they have a whole new market that watches them. Products such as Olpers, National Foods, Omung and many others are promoted through these shows by sponsoring or product placement.
In a country like Pakistan, where a large percentage of the people cannot afford to have a meal three times a day, these shows jump in only to add to the grief and disappointment that exists. Showcasing a designer wear worth Rs 50,000 or a meal worth Rs 5,000 in these shows is atrocious. All in all, there must be a limit to these morning shows in terms of money, talks and their number.