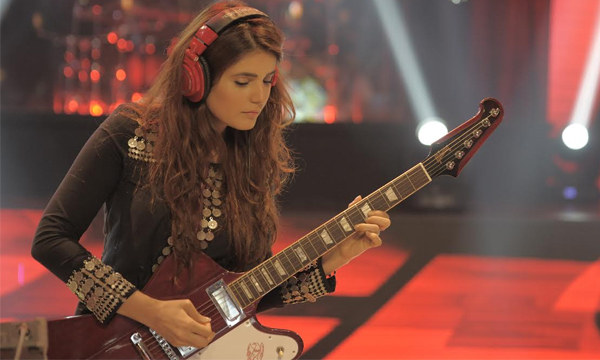 Perfectly pretty, utterly charming and super melodious; the rising songstress Momina Mustehsan is making waves since her debut on Coke Studio 9.
The girl with the nightingale voice has created an uproar with her tune "Afreen Afreen" featuring the maestro Rahat Fateh Ali Khan. Shockingly, with her few lines in the iconic tune, she has seized all the spotlight from the legend in their soulful rendition.
The best part is that she has melted  hearts with her soft voice not only in Pakistan but across the border. Much to our glee, we will be seeing more of the singing sensation in the upcoming Coke Studio 9 Episode 5. This time, she will enthrall us with her sweet vocals in a pumped-up melody with Junaid Khan!
This fierce beauty is all set to conquer Pakistan's musical realm. However, there is so much we need to know about this sweet stunner! In a tete a tete with Brandsynario, Momina Mustehsan shared with us all about her personal and professional life. 
Here is a collection of some rare facts about the superstar which, we bet, you didn't know before! 
1. Momina was a 3rd grader in New York's elementary school when she explored her musical side.
When I started elementary school in New York, I was supposed to take up an instrument. It's part of the curriculum. I decided to take up the violin, just because it seemed cool and they didn't have the guitar. That's when I started realizing I might have some interest in music, which was in 2nd or 3rd grade. 
https://www.instagram.com/p/BJwclSjgXdM/
She sang for the 1st time in her school's talent show and loved it!
Then there was a talent show and I was part of the choir. Everyone had to showcase something. My teacher asked me if I had something to show and I said, I don't know. And she said I think you sing well and I said, I don't know! That's when I sang for the first time and it was amazing. I didn't think I could sing. This was in 3rd grade. It was fun.
2. Her tunes on Sound Cloud led to her Bollywood debut for Ek Villain's song "Awaari"
I had people ask me about singing for movies or playback but I was never interested. Then came Soch, a Pakistani band, who was working with Mohit Suri on the movie, Ek Villain. They heard me through Sound Cloud and their manager got in touch with me. This was my first commercial project.
3. Did you know that Momina is an engineer by profession! Currently, she is working on building devices and doing social work!
My priority has always been education. I barely had time to eat or sleep in college. I graduated recently so I have some time. I'm working on building devices or doing social work until I start school in January.
Momina Mustehsan Sings for 'Zindagi Kitni Haseen Hai' Movie After Singing in Coke Studio 9
4. Apparently, the charmer prioritizes comfort over fashion and loves to wear traditional Pakistani wear
I don't keep up with fashion trends, especially in Pakistan. I like wearing traditional Pakistani clothes when I'm here, and anything that feels comfortable when in the US.
5. You won't believe it but Jojo and Justin Beiber are her favorite international musical celebrities.
JoJo. Her talent and her journey both are incredible. And, Justin Bieber. Because he came out stronger from all the hate he has gotten most of his life and he has been working on himself and evolving.
6. Like all of us, she too loved Ricky Martin when she was a teen!
Please don't judge me, but as a kid, I was a huge fan of Ricky Martin and… Aaron Carter!
7. Guess who is her favorite music composer? Hint: he is the mastermind behind Highway's soundtrack!
Amit Trivedi is my favorite music composer
8. She made her Coke Studio debut besides her favorite icon, Rahat Fateh Ali Khan!
Afreen Afreen by Rahat Fateh Ali Khan & Momina Mustehsan: Coke Studio 9, Episode 2
9. Momina believes respect is the most important thing in a relationship!
My idea of romance is respecting each other as the individuals that they are.
10. The rising star desires to bring a positive change in the world!
My ultimate desire is to make a positive difference in this world, both as an engineer and as a musician.
Isn't she total love? Her latest Coke Studio Song "Mein Rasta" with Junaid Khan will be revealed today and we can't wait for it!
Stay tuned to Brandsyanrio to listen to her tune!