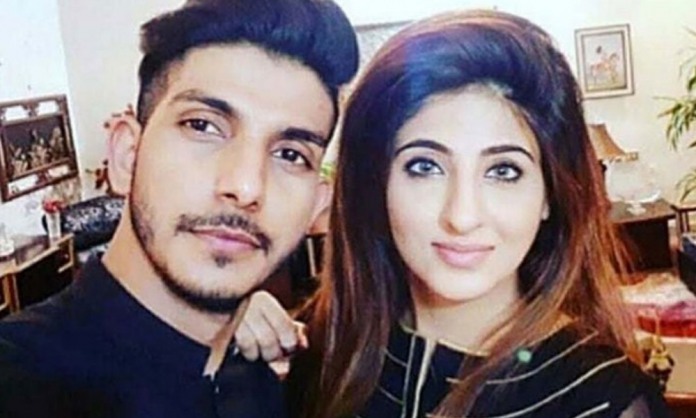 December 10th, 2019: Mohsin Abbas Haider's ex-wife Fatima Sohail was recently targetted in a smear campaign on social media.
An explicit video was making rounds on social media under her name! Fatima reached out to the Federal Investigation Association (FIA) for further assistance.
The authority confirmed that Fatima's claims of the video being fake are legit. Earlier this morning the agency pulled the video from the internet.
"On 4th of Dec, 2019, a sexually explicit content (video) impersonating to be Ms. Fatima Sohail was found circulating on social media including Twitter, Youtube, and Whatsapp." stated in the report.
FIA further added that Fatima is a known personality and a reputed citizen of society. After the explicit video went viral, Fatima cleared the speculations through her social media while confirming she will take legal actions.
FIA has made a request to Pakistan Telecommunication Association to remove all the unlawful content.
---
---
December 7, 2019: Fatima called out the people responsible for circulating the obscene video under her name on social media. She assured them that she will take the legal route to tackle this situation.
She shared screenshots of the notice on her Instagram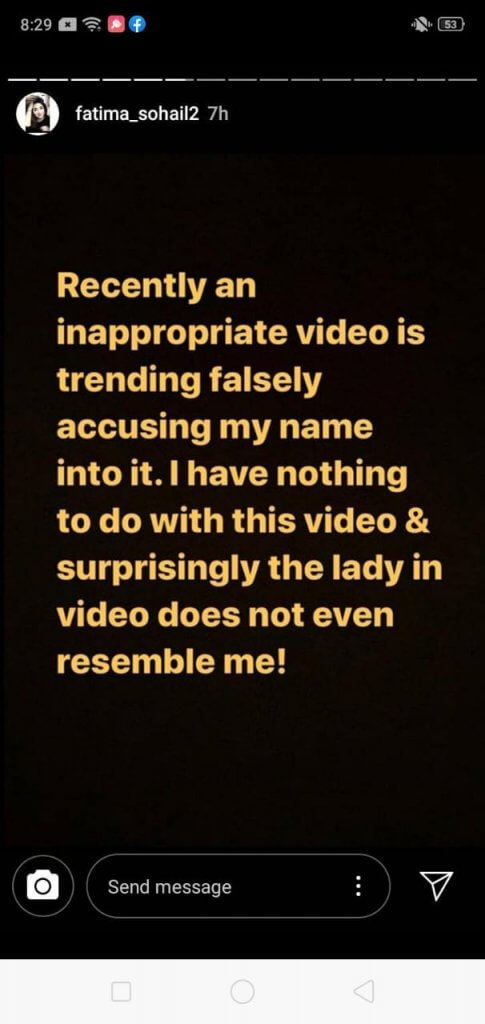 Her report to FIA
Fatima also appeared on private tv channel Bol to clarify the misleading video
---
---
December 6th 2019:Just recently Fatima Sohail the ex-wife of Mohsin Abbas became the victim of the ongoing video scandal that targetted Rabia Peerzada and Samara Chaudry.
The video started circulating just yesterday that contain obscene content and people continue sharing it with Fatima Sohail's name. But it turns out to be a fake video of another couple.
Fatima Sohail and Mohsin Abbas made headlines just a few months ago when Fatima accused her ex-husband Mohsin of domestic abuse.
The case became the talk of the town as it involved 'Na Maloom Afrad' famous actor. After a settlement in court, Fatima is now hosting a show at BOL television. This smear video scandal has targeted quite a few young female artists from the entertainment industry.
Just last month Rabi Peerzada and Samara Chaudry were the victims of this ongoing scam. As per the sources, there is a group active in Lahore targetting young female celebrities and leaking there private data on social media.
After the fake video surfaced on social media people started speculating it as Fatima.
Log keh rhy hn Wo video Fatima Sohail ke hai
Jo k Mohsin Haider Abbas ke Bv thy pic.twitter.com/X7jUheUNtX

— Emran Faiz Butt (@aAmi0007) December 5, 2019
Heard about Fatima Sohail ex wife Moshsin Abbas video leaked kya scene hy? #FatimaSohail #LeakedVideo

— Tahir Hanif (@tahirhanif) December 4, 2019
Yeah Fatima Sohail waali video fake hai ya real ??

— periDot (@bullzade) December 4, 2019
Furthermore, the video is fake and according to a private media publication, it's not Fatima. The ongoing rise of cyberbullying cases is alarming and data thieves are targetting female celebrities.
Just now even Armeena Khan warned her followers about the scam accepting that she has been the target of the theft but figured it out smartly.
Just been hit by an elaborate phishing scam. To my fellow actors, pls do not click on any links from magazines asking for your permission to use your images. They'll send you a link and will try to get into your iCloud. ***Do NOT enter your password***

— Armeena Khan (@ArmeenaRK) December 4, 2019
This is high time that authorities should take concrete actions against cyberbullying and data theft. What measurements do you think the government should take to control cybercrime? Tell us in the comments below.
Stay tuned to Brandsynario to know all the latest updates.