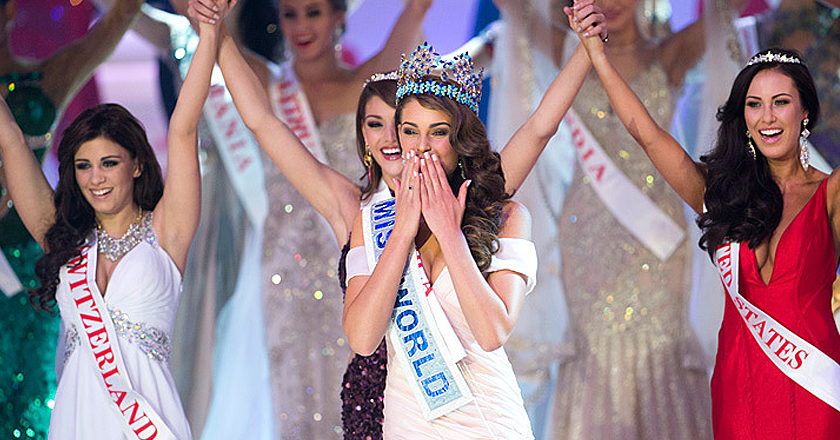 The 64th Miss World competition crowned, Rolene Strauss, Miss South Africa as the winner of the annual competition from amongst women from 121 countries all around the world. The glamorous finale was held in London yesterday, with almost a billion viewers, watching the show live on TV across the globe.
While the glamorous event is centered on beauty, the theme has much more to it than just looks. The contestants are judged for their skills, talents and intelligence.
The judges selected Miss Australia, Miss England, Miss Hungary, Miss United States and Miss South Africa as the final five nominees, before announcing the South African candidate as the winner, making her the third winner from her country since 1951.
The medical student from South Africa was delighted to receive the crown from Megan Young, the former Miss World from Philippines and braced herself for the associated responsibilities. Edina Kulcsar, Miss Hungary and Elizabeth Safrit, Miss United States bagged the second and third positions respectively.
Other winners for the event included:
Live Sing Off as part of Talent Competition Winner – Miss Malaysia
Beauty with a Purpose Competition Winner – Miss Brazil, Miss Guyana, Miss India, Miss Indonesia and Miss Kenya
Sporting Competition Winner – Miss Finland
Multimedia Competition Winner – Miss United States
Top Model Competition Winner – Miss Bosnia and Miss Hercegovina
Beach Fashion Competition Winner – Miss Sweden
People's Choice Award Winner – Miss Thailand
Miss World and other contestants will be visiting Central America soon to initiate the building of a school in the name of Maria Jose Alvarado, Miss Honduras and her sister, who were murdered during the period of the contest. The initiative is intended to serve as a wakeup call to the people of Honduras for the existing violence in the region.
The event also honored Bollywood's Aishwarya Rai, a former Miss World for her charitable work for the children suffering from cleft palates. 
Check out the event highlights here: